All Seward in Home Opener
KSCB News - September 11, 2014 6:19 am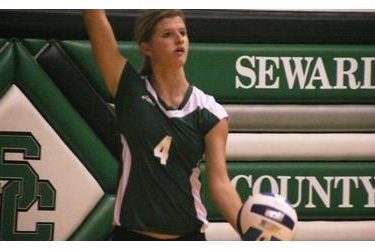 The Seward County Lady Saints opened their 2014 home schedule with a bang on Wednesday night in the Greenhouse, dispatching of visiting Dodge City 3-0 in a swift sweep in Jayhawk West Conference action.
Seward got off to a blazing start in front of their home crowd, getting four kills in the first five points from their Brazilian trio of Carolina Freitas, Thayna Silva, and Carolina Gasparini to take a quick 4-1 lead. Seward continued to extend their lead, getting a block from Silva and Megan Sharratt to go up 11-3 and then a kill from Alex Wood later on to go up double digits at 17-7. The Lady Saints continued to cruise late in the set, getting two more kills from Gasparini to blow things wide open to win 25-12. The Lady Saints offense was in fire in the set, pounding down 14 kills on the Dodge City defense, hitting .281 as a team.
Back to back kills from Silva early in the second set gave Seward a 6-2 advantage to begin things and the Lady Saints carried their four point lead to the midway point of the set at 12-8. The Lady Saints stretched their lead to 17-11 later in the set and it looked like they were smooth sailing after back to back kills from Silva and Gasparini had them on top 21-16. Two straight Seward errors gave Dodge City a breath of hope late in the set, but a pair of rocket shots off the right arm of Wood sealed the deal for the Lady Saints as they hung on to take the second 25-22 to go up 2-0. After 14 kills in the first set, the Lady Saints dialed it up even another notch in the second with 15, however 8 errors forced Seward to settle for a .159 hitting percentage for the set.
The third set was a back and forth affair nearly the whole way as kills from Megan Sharratt and Silva gave Seward an early lead, but back to back Lady Saint errors allowed the Conqs to tie the score at 5. With Dodge up 9-8 later in the set, Seward got three straight kills to take an 11-9 lead, but that advantage didn't last long as the Conqs tied the score back up at 13 after two more Lady Saint miscues. Following a timeout, Seward rolled off six of the next seven points to grab their first substantial lead of the set at 19-14, but the Lady Saints let Dodge right back in with three straight errors to quickly make it a two point game once again. Seward carried the two point lead to 21-19, but four straight Dodge City points made it look like the Conqs weren't ready to go home just quite yet as they took over a 23-21 lead. A kill from Wood got Seward to within one and a Dodge City error knotted the match at 23 before an attack error and a solo block from Wood closed things out for the Lady Saints as they came from behind to win 25-23 to sweep the match 3-0.
Silva and Wood paced the Seward offense with 12 and 11 kills respectively while Gasparini added 9 for the Lady Saints. Taryn Bedore had a team high 22 assists for the Lady Saints while Kristen Anderson had 16 in the win. Libero Kari Anderson led the back row with 17 digs in the victory while Silva and Wood each had 11 to notch double-doubles.
The Lady Saints improve to 9-4 overall on the year and 3-1 in Jayhawk West play with their third straight victory while Dodge City falls to 4-10 overall and 0-3 in league action as their forgettable September continues.
It's back on the road next for Seward as they travel to Sterling, Colorado on Friday for the Northeastern Pizza Hut Classic. The Lady Saints will take on the host team Northeastern at 5:00 Friday to open the tournament followed by dates with undefeated Laramie County as well as Casper and Northwest Wyoming.
SEWARD COUNTY/DODGE CITY BOX SCORE<http://www.sewardsaints.com/sports/wvball/2014-15/boxscores/20140910_w2j4.xml>