All Saints Day Scheduled for May 22
Joe Denoyer - May 10, 2018 4:11 pm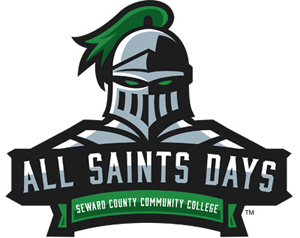 It's never too soon to get ready for a successful first semester of college, and the next All Saints Day scheduled for May 22 at Seward County Community College is the perfect way to prepare. 
The all-day event offers a mixture of enrollment and orientation activities to incoming freshmen, starting at 8 a.m. 
"We were very pleased with the first All Saints Day in April, even though the weather decided not to play nice," said Director of Admissions Bert Luallen. Despite the overnight snowfall, more than 50 students made it to campus for the Saturday event. This All Saints Day occurs on a Tuesday, and will include all the features that make moving to "college student" status a bit easier. Students and their parents will get valuable information about financial aid, money management, and policies on campus, as well as hands-on help to set up a student log-in for the SCCC computer network. Photos for student IDs will be taken. Sessions about student life activities, clubs, and more will give new Saints an inside look at what to expect. 
After a free lunch served by the SCCC cafeteria, incoming students can meet with their advisors, select, and enroll in classes. 
"We really view All Saints Day as a transitional piece that sets students up for success," said Dean of Student Services Annette Hackbarth-Onson. "When you start out with good information and a clear sense of connection to the people who are going to be in your corner, cheering you on, it makes that first semester of college a lot easier to navigate."
Participation in All Saints Day is free, but students must sign up in advance and provide basic college entrance test scores; if a student has not taken the ACT exam, the college provides a placement test known as "Accuplacer," free of charge. This must be completed before it is possible to enroll.
To reserve a spot at All Saints Day, schedule an Accuplacer test, or get more information, call the Admissions Department at SCCC, at 620-417-1102. Or, log on to sccc.edu and click on the "Students/Admissions" links to register online.