All Independence in the Green House Saturday
Brock Kappelmann - December 5, 2021 8:42 am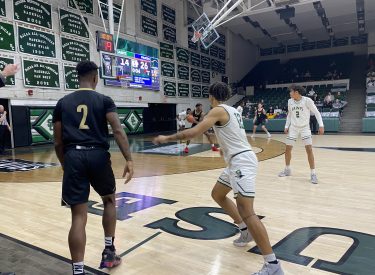 It was all Indy all night Saturday night in the Green House.  The Independence Pirates jumped out to a 17-2 lead and led by double digits most of the night in an 89-75 win over the Seward County Saints.  Independence shot 49 percent from the field while SCCC shot 33 percent.
The Pirates jumped all over the Saints for a 17-2 lead and a 23-6 lead.  The Saints trimmed the lead to nine at 28-19 with 9:17 to play.  The Saints tied the game at 30-30 with 5:15 to go.  Indy led 46-39 at halftime.  Independence began the second half on a 15-4 run to lead 61-43.  Indy led 71-51 as Seward continued to struggle defensively allowing high percentage shots.  SCCC made a little push behind a spirited crowd to cut the lead to 71-60.  But a 9-3 run by the Pirates quieted the SCCC push.
Independence shot 53 percent from the field in the first half and 49 percent for the game.  Seward shot poorly in both halves at 33 percent in the first and 32 percent in the second.  SCCC was 8-35 from 3 and Indy was 7-22.  The Pirates were 26-36 and SCCC was 15-21.  Seward forced 21 Indy turnovers.
Erik Pratt scored 20 on 7-21 shooting.  Malachi McReed had 16 points and eight rebounds on 6-17 shooting.  Kevon Cooper scored 11 and Wil Dubinsky had 10 points with five rebounds.
Seward falls to 4-4 overall and 2-2 in the Jayhawk.  Independence is 5-7 and 2-4 in the Jayhawk as they win their second straight at the Green House.  Seward hosts Colby Monday night at 6 in the Green House with Saints Shoot-around at 5:45 on 107.5 and the KSCB and The Legend App.  Lewis Motors of Liberal is the game sponsor.