Alison Owens Rejoins Saints, This Time As A Coach
KSCB News - August 16, 2010 12:00 am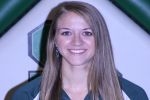 Alison Owens rejoins the Lady Saints in 2010-2011, this time on the bench as an assistant coach. Owens played for two seasons for Seward County in 2004-2005 before graduating from SCCC with her Associates of Science. After finishing her playing days as a Lady Saint she transferred to Lubbock Christian University on a volleyball scholarship but left there to pursue her academic career at the University of Kansas. While at KU, Owens played club volleyball and helped the Jayhawks to a 17th place finish at the National Club Volleyball Tournament. Owens received a Bachelor of Arts Degree in Spanish and International and Global Studies from KU in December of 2009. After graduation, Owens returned to the place of one of her study abroad adventures, Mexico, where she taught English for the summer of 2010.
Owens is a native of Moscow, Kansas and was a graduate of Hugoton High School. In the final two years of her prep volleyball career, Owens was chosen to represent Kansas on All-Star teams that played in tournaments in Hawaii and Australia.
After accepting her scholarship to Seward County CC, Owens was part of the Lady Saints team in the 2004 and 2005 seasons. Also during her time at SC, Owens was a member of the student government, a tutor in the academic achievement center, as well as a residence assistant in the student living center.
After graduating from Seward County and making a brief stop at Lubbock Christian University, Owens was on to the University of Kansas where she looked to concentrate on her studies. While at KU, Owens decided to take on study abroad opportunities in Mexico and Spain. She is now trilingual, speaking English, Spanish, and Portuguese.
Owens won ??t have much time to get comfortable as the Lady Saints are already training for their 2010 season that starts in less than two weeks. Seward opens the season ranked 17th in the NJCAA pre-season poll and has high expectations as they look to defend their 2009 Jayhawk West Conference Championship. They will play a pair of scrimmage dates on Saturday in Goodwell, Oklahoma followed by a home scrimmage against OPSU on Wednesday the 25th, before kicking off their regular season against Trinidad State in the Lamar Kick-Off Classic in Colorado on the 27th and 28th.