Aggies Win Two in the Wind
KSCB News - March 27, 2014 2:07 pm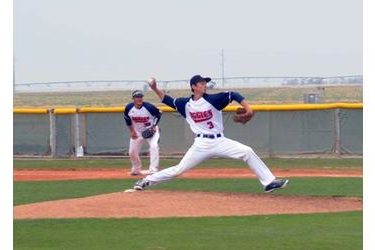 By Justine Gaskamp on 03/27/2014
Goodwell, Okla.-Wednesday was just another windy day in the Oklahoma
Panhandle and just another "day at the office" for the Aggie baseball team
as they powered through the elements and racked up two more wins against
Colorado Christian.
Both teams were contending with 25-30 mph winds from start to finish of
Wednesday's double-header and OPSU Coach Steve Appel said this after the
games, "It's never easy playing in these windy conditions, but the guys just
found a way to get the done job at the end of the day. It wasn't always
pretty baseball, but they were able to show some heart in game two and get
the win."
Freshman pitcher Josh Casillas got the start on the mound for the Aggies in
game one, earning the first win of his college career.
Peyton Osbon got the first run of the day for the Aggies to give them a 1-0
lead after one inning. Osbon hit a single to get on base and advanced to
second on an error; Jordan Bernal then singled moving Osbon to third and
another single by Dylan Dudley drove him home for the score.
CCU got their first and only run of the game in the third inning which tied
things up at 1-1. Osbon was up again for the Aggies and opened the bottom of
the third with a double to right-center; he later scored on a passed ball.
Chris McClendon drove in another RBI for the Aggies putting the home team
back in the lead at 3-1.
The Cougars were held to zero runs through the top of the sixth when the
Aggie defense made a strong double-play followed by a put out by shortstop
Robert Montoya to make quick work of the CCU batters.
Chris McClendon led off the bottom of the sixth with a walk to first base.
Lucas Ogaz and Robert Montoya each followed with a single by bunt loading
the bases. Nicholas Zieniuk brought McClendon in with a single towards
second and Trey Wooten reached on an error by second base bringing Ogaz in
for the score. Montoya and Osbon each crossed home plate as well totaling
four runs for the Aggies.
Up 7-1 Casillas forced ground balls on the Cougars in the seventh and put
three up-three down to end game one. Casillas pitched a full seven innings,
allowing only four hits and one run (zero earned); he threw one strikeout.
On the mound for the Aggies in game two was junior right-hander Zach Tingen.
Tingen went six of the seven innings with seven hits, four runs (two earned)
and two strikeouts.
Colorado Christian jumped out to a 4-0 lead early in game two scoring all
four runs in the first inning. Neither team was able to bring in runs
through the fourth inning.
The Aggies gave up zero hits to CCU in the fifth and went on to score two
runs to close out the inning. Bo Ybarra singled to right field and advanced
to third on a Ruben Aguirre double down the left field line. Peyton Osbon
then drove a double to left-center bringing in both Ybarra and Aguirre for
two RBI.
The Cougars remained scoreless in the sixth which gave the Aggies an
opportunity to pull ahead. Sam Moreno stepped up with a single, as did Bo
Ybarra. Ruben Aguirre followed with another big double scoring two and tying
the game at 4-4. Aguirre then advanced to third on a wild pitch and crossed
home plate on an error. The Aggies gained a one-run lead after six innings.
Tom Parker came in to close for Casillas; Parker threw for two outs and was
replaced by Spencer Long who forced a ground ball for the final out and the
save. Long earned his second save of the season. Tingen improved his record
to 3-2 with the 5-4 win over the Cougars.
Ruben Aguirre led the series hitting 3-3 with two doubles and two runs
scored. Bo Ybarra averaged .667 and went 2-3 with two runs; Jordan Bernal
and Chris McClendon both hit .500 for the series.
Leading the team in RBI was Peyton Osbon with three, followed by Aguirre and
Dylan Dudley who each brought in two.
Appel said this of his team, "We hit about as well as we could with the wind
howling in game one, and we played defense well all day. The pitching was
also good enough to hold them to a minimum."
Aggie first basemen saw most of the fielding action totaling 19 putouts on
the day; Dylan Dudley took nine in game one and Nick Crosswhite put away ten
in game two.
"These types of games are never easy, Appel added, "but it's nice to scratch
out two wins heading into an important conference series. I believe if we
can keep our team focused we can make a run at things, these kids deserve
it."
The Aggies now hold a 11-22 overall record winning six of their last eight
games. The team will head to Odessa, Texas this weekend for a three-game
conference series against the University of Texas-Permian Basin. Friday's
double-header begins at 1 p.m. with game three starting at 1 p.m. on
Saturday.