Aggies Set to Rev it Up on the Road
KSCB News - September 2, 2014 6:20 am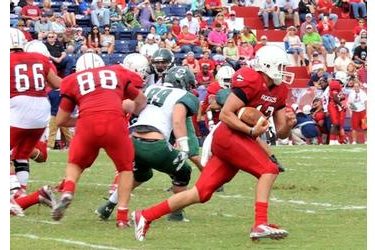 Goodwell, Okla.-The 2014 OPSU Football season officially kicks off this week
as the Aggies travel to Alamosa, Colo. Thursday, Sept. 4 to take on NCAA
Division-II opponent Adams State University.
The Aggies look to give the Grizzlies a dose of their own medicine with a
win on ASU's home turf after taking a 26-10 loss in Goodwell last year.
Led by senior quarterback Caleb Holbrook, the Aggie offense projects to be
even better with nine returning starters. The staff feels like Holbrook is
ready to take his play and leadership to another level.
Holbrook will have plenty of weapons at his disposal including the deepest
group of wide receivers the team has had since Gaskamp took over the
program. Junior receiver Rickey Backstrom will line up this week across from
sophomore Zacari Lavendar. Seniors Jamal White and Spencer Grijalva will
offer additional air support.
Experience on the ground will give the Aggies a dual threat against the
Grizzly defense. Junior running back Chris McClendon is coming off a
1,000-yard season in 2013 and sophomore Rod Moore will add depth to the
running game.
The Aggie O-Line also returns a lot of experience up front with Cole Wills
back at the center position for his senior season. Juniors Kevin Tankerson
and Domonique Wyatt line up as guards and sophomores Guerrero Garcia and
Diego Arenas will be outside at tackle.
With the presence of a new defensive coordinator, Jarry Poth, the Darkside
Defense is ready to rock! Coach Gaskamp is "very excited about some of the
changes being implemented defensively," and says "the Aggie D will still
stay very aggressive."
The defense will be led by the starters returning in the back seven: seniors
Dominique Guest, Domonique Johnson, Jamel Major, and Andrew Dougherty; and
juniors Isaia Vimoto, Tanner Hallford and Xazier Murry. Sophomore Neptune
Joseph will get his first start as an inside linebacker.
Juniors Diedrick Bushnell and Glenn Bonner will anchor the tough defensive
line along with newcomer Kameron Lyons who steps into the defensive end
position as a freshman.
Kicker Gabriel Ortega is back and better than ever improving his strength
and accuracy in the off-season. Junior transfer Devin Rubino also brings a
strong leg to the punter position. The two of them look to lead a
potentially dynamic special teams unit.
Gaskamp looks forward to seeing how the new season will unfold saying, "When
you take over a program there is a maturation process that has to take
place. When you build it right it does not happen overnight. We feel like
for the first time since we have been here that we are finally in a position
to have a really good and experienced team that can be competitive at the
Division II level. We will find out early playing against two very quality
opponents from the RMAC: Adams State and Ft. Lewis (Sept. 13). Those games
will be great barometers for the progress this program has made. Now is the
time, no more excuses. WE WILL put together a season that our school and
community will be proud of and want to be a part of."
It's a great time to be an Aggie and an even better time to be an Aggie fan!
The Aggies will kick-off against Adams State Thursday, Sept. 4 at 7 p.m.
Mountain Standard Time; fans can keep up with the action via a live stats
link posted on the OPSU Aggie Athletics website (football schedule page).
It's not too late to purchase season tickets to get your reserved seating
for five Aggie home games. The first home game for the Aggies will be
Saturday, Sept. 13 at 7 p.m. against Fort Lewis College; free t-shirts will
be given out in limited quantities so come early, wear red, get rowdy and
get ready to REV IT UP for your Aggies in 2014!!!
###
Justine Gaskamp