Aggies Downed by Dustdevils
KSCB News - December 22, 2014 7:23 am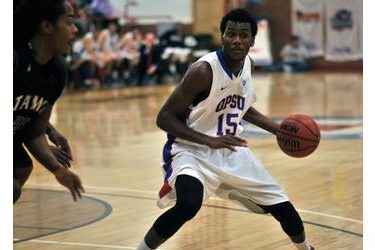 Aggies Downed by Dustdevils
By Justine Gaskamp on 12/20/2014
Goodwell, Okla.–In their final games before the holiday break the OPSU
Aggie basketball teams were each defeated at home by Heartland Conference
opponent Texas A&M-International University Saturday afternoon.
The Aggie women's team got off to a slow start and found themselves down 21
points at the half (38-17); the Dustdevils held the Aggies to a 27 percent
shooting average in the first twenty minutes of play. Although they made
another great second-half comeback, outscoring the Dustdevils 33-30, the
Aggies were unable to pull ahead and took an 18-point loss with a final
score of 68-50. Their overall record moves to 2-9 with an 0-2 Heartland
Conference record.
Tatyana Bell led her team in scoring for the fourth time this season
totaling 13 points on the game. Kiera Waters and Hannah Tatum also shot well
finishing with 12 points each; Waters and Tatum shared the team-high in
rebounds with eight boards each. TAMIU's Jessica Woo added a game-high of 21
points to the scoreboard, and teammate Jessica Prieto earned a double-double
with 17 points and a game-high 10 rebounds; Prieto also contributed a
game-high in assists with seven.
After the game OPSU Coach Charles Terry said this, "Our scoring woes
continue; it felt like some of us took off for Christmas a little early. We
did, however compete hard and played hard." The ladies will finish 2014 with
a New Year's Eve game in Kearney, Neb. against the University of
Nebraska-Kearney. The teams met previously this season in Goodwell and the
Aggies hope to turn the tables and close the year out with a win on the
road.
In the second game of the day the Aggie men kept things interesting battling
to within three points of the lead by the break. The Dustdevils went to the
locker room up 35-32 after owning a 15-point advantage midway through the
first half. The Aggies held a nine-point deficit with six minutes left in
the game, but fouls and turnovers quickly gave TAMIU a double-digit lead and
the Dustdevils came out with an 84-69 road win.
Antonio Manns, Jr. earned another game-high in scoring with 20 points, ten
coming from the line. John Lazenby and DeShawn Dean each totaled 13 points
for the Aggies and Lazenby grabbed a team-high six rebounds. Marquavius
Williams led his team in assists with six. For the Dustdevils, Vadal Faniel
led the team with a double-double from 18 points and 13 rebounds; Anthony
Alston offered six assists.
Disappointed in his team's effort OPSU Coach Jerry Olson said, "We just got
outhustled; they got every 50/50 ball. We also got killed on the boards and
couldn't get back in transition. There were too many bad turnovers where the
ball was just taken, not forced." He continued saying, "We gave up layups
and free-throws in the second half. Every second half our defense gives up
45-50 points; we've got to improve."
The Aggie men move to 2-8 overall with a 0-2 Heartland Conference record.
The men will open 2015 with a game on New Year's Day at home. The Heartland
Conference match-up with Lubbock Christian University will take place
Thursday, Jan. 1 at 7:30 p.m.
A special thanks to the Elite Spirit All-Star Cheer Squad from Meade, Kan.
for their halftime performance during the men's game on Saturday. Aggie
Athletics wishes everyone a safe and happy holiday season and we look
forward to seeing the stands filled in 2015!
###
Justine Gaskamp