Aggie Update: OPSU Wins Home Opener
Brock Kappelmann - November 5, 2018 7:01 am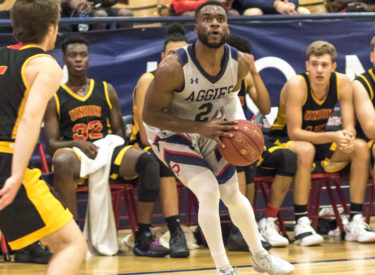 See this article on our website: https://opsuaggies.com/news/2018/11/7/hearty-win-in-home-debut-for-aggie-mens-basketball.aspx
Hearty Win in Home Debut for Aggie Men's Basketball
Released by Panhandle State Sports Information on 11/07/2018
Breiman Alexander led the Aggies in scoring with a game-high of 28 points against Union College.-Beverly Hintergardt photo
Goodwell, Okla.—In a rousing home-opener, the Panhandle State men's basketball team added one to the win column with their 55-point defeat of Union College (110-45).
Head Coach Aaron Coombs commented on the victory, "I'm very pleased with how we came out and started the game both offensively and defensively. I thought our guys were locked in mentally and showed a level of maturity to be able to come out and dictate the game from the tip."
Panhandle State was shooting at over 52 percent and held a 64-15 lead at halftime. Senior transfers Breiman Alexander and Alan Hodge, Jr. each reached double-digits in first-half scoring with 17 points apiece, along with returning sophomore guard Thomas Ellis who held 11 points at the break and led the game in rebounds with eight.
After halftime the Warriors improved their shooting percentage by 13 percent, and went to averaging 35.5 from the field. The Aggies' aim fell slightly to 42.1 percent, and dropped from 34.6 to 15.8 percent in second-half three-point shots. Alexander led the game in threes, knocking down five on the night, and also held the game-high in assists with five. The Aggies moved the ball well with 17 assists to the Warriors five.
Five Aggies surpassed the single digits, with Hodge leading the pack at 28 total points. Alexander finished with 21 points followed by Baris Ulker who put up 17. Dillan Landers and Thomas Ellis combined for 24 points from the bench, with Ellis marking a double-double on 13 points and a game-high of 11 rebounds. Ulker was the teams' next-leading rebounder, bringing down seven boards, while Jaedon Whitfield, Alan Hodge and Breiman Alexander each had five boards for the game.
As a team, the Aggies outmatched their opponents 46-29 in rebounds and claimed 19 points on second-chance shots. Panhandle State scored 27 points off turnovers, as Union College gave up 25 lost balls and 11 steals in the game.
Coach Coombs expounded, "We exceeded many of our game goals and everyone who played contributed in a positive manner." Adding, "I was very pleased with Thomas Ellis and his efforts; as the point guard he really set the tone and competed at a high level." He also noted the combined 36 points put on the board by non-starters stating, "Our bench was electric and really did a great job being engaged in the game. If we have that kind of excitement from our bench every night, then we will really grow as a team." Coombs concluded, "We still have a lot to work on as we continue to learn how to play together and build our chemistry offensively, but our ability to make plays when our offense struggles is something that is very exciting."
The Aggie men hold a 2-1 overall record and are set to host two home games at Anchor D Arena next week. The team takes on Calvary University on Monday, Nov. 12 and Barclay College on Tuesday, Nov. 13, both contests tip off at 8 p.m. Free live stats and video will be available for both games. The Panhandle State Student Athletic Advisory Committee (SAAC) is holding a penny war fundraiser for Christmas Cheer for Children through the remaining home fall basketball season. Bring your loose change and fill the jug of your favorite Aggie team in this spirited challenge to see which team can collect the most money to help make Christmas merry and bright for local children.
Justine Gaskamp Sports Information Director/Athletic Events Coordinator
Aggies Post Senior Day Shutout against Texas College
Released by Panhandle State Sports Information on 11/04/2018
Running back Carlos Ransburgh ran in three touchdowns for the Aggies and hauled in an 82-yard reception for a fourth. – Rylee Higgins photo
Goodwell, Okla.-Ten seniors took the field at Anchor D Stadium on Saturday, as the Panhandle State football team hosted their final home game of the season against SAC opponent Texas College. The Aggies took charge, scoring 35 points in the first half and ending with a 42-point shutout victory over the Steers.
Seniors Nick West (WR), Jaylon Fair (WR), Brandon Ramon (QB), Deyleon Williams (DB), Jawan Purifoy (LB), Samuel Lemin (OL), Dominique Coutee-Thomas (OL), Jabrel Alexander (DL), Sequoia Smith (DL) and Justin Slaughter (DL) were each honored alongside family and friends during the pre-game senior recognition. Head Coach Russell Gaskamp presented each player with a framed group photo signed by teammates, and University President Dr. Tim Faltyn, Sooner Athletic Conference Commissioner Stan Wagnon and Athletic Director Meghan Mulcahy were also present to congratulate the student-athletes at mid-field.
A rousing first quarter performance saw Panhandle put 21 points on the board in under eight minutes time. Junior running back Carlos Ransburgh collected the first three touchdowns of the day, scoring on run plays of seven yards, 40 yards and two yards respectively. The Darkside Defense served the Steers three quarterback sacks in the first quarter and held their opponents to 11 yards rushing and 49 passing. Seniors Jawan Purifoy, Sequoia Smith and Justin Slaughter along with Braden Price and Diamante Pounds put collective pressure on Texas College's starting QB Vontyne Williams, who took a total of 23 yards lost on the first quarter sacks. Senior Deyleon Williams came down with an intercepted pass from Williams on the Steers' second drive of the day.
Ransburgh and Aggie quarterback Martez Vrana opened the second quarter in equally exciting fashion, with an 82-yard touchdown connection that gave the Aggies a 28-0 lead with 14 minutes remaining in the half. The Aggie defense did a stellar job of containing the Steers in the second quarter, allowing just 11 total yards of offense. Sequoia Smith and Matt Hernandez each collected solo sacks, with Smith forcing a fumble for a loss of 14 yards. Vrana also suffered two sacks in the second quarter, but bounced back with a scoring drive in the final two minutes of the half. A three-yard quarterback keeper added an Aggie touchdown with nine seconds left on the clock. Texas College fumbled on the ensuing kickoff, and Diamante Pounds recovered the ball at the TC-40 yard line. Panhandle State left for the locker room leading 35-0 at halftime. At the break the Aggie offense had accounted for 71 yards rushing and 172 in passing; Vrana was on-target for 12 of 13 attempts.
The Aggie defense remained acutely frugal throughout the third quarter, giving up a mere ten yards rushing and zero passing to the Steers' offense. Offensively the Aggies suffered a second-half setback after losing Ransburgh to an injury in the second quarter. The team acquired just 13 yards on the ground in the third quarter, and Vrana was hit with two more sacks before being replaced by senior QB Brandon Ramon. Ramon finished out the game and posted the final touchdown of the day on a two-yard target to George Dominguez. Pounds pulled down another quarterback sack, forcing a fumble in the fourth quarter which was recovered by d-lineman Triston Inman. Both teams kept to the run game as time ticked down, and the Aggies notched their sixth Sooner Athletic Conference victory by a score of 42-0.
For the game, the Aggie offense accrued 391 total yards, finishing with 110 rushing and 281 passing. Vrana completed 15 of 16 pass attempts and totaled 198 yards and four touchdowns through the air. The freshman was listed second in rushing with 26 yards on 11 carries, behind Ransburgh who tallied 48 yards on five carries. Emile Cola led the Aggies in receiving, hauling in three catches for 66 yards followed by Miquel Hudson who totaled 41 yards on four receptions.
Defensively, Panhandle State did not allow their opponents to enter the red zone once throughout the entire game. Diamante Pounds posted his best game of the season taking down 6.5 tackles, four tackles for loss and 2.5 sacks in addition to forcing one fumble and recovering two. Jawan Purifoy also totaled 6.5 sacks including six solos and one TFL. Head Coach Russell Gaskamp commented on the performance of the Aggie defense, "Once again our defense played fantastic. We were able to stop the running game and that turned Texas College into a one-dimensional team. Once they got that way we were able to create great pressure on them throughout the game." Gaskamp noted, "Diamante pounds played outstanding."
Gaskamp also offered offensive perspective stating, "At the beginning of the year we did not do a very good job of protecting the ball, but over these last four weeks we have been able to win the turnover battle in every game. It says a lot about the way that our offense has taken care of the ball and at the same time our defense has been able to create turnovers. Anytime you're able to do that you have a great chance to win the game and that will be incredibly important next week."
The win gives Gaskamp and the Aggies a 6-4 record on the season, and a second-place standing within the conference. With one game remaining on the schedule, the Aggies will face-off with a familiar foe this week as they battle for the bell at Langston. "Our number one goal going into the season was to give ourselves a chance to win the league. We knew that the path would go through Langston; they had a good team last year and an even a better one this year." Gaskamp also imparts, "It is going to be one heck of a challenge for us to go on the road and play against them. I do believe though, that our guys understand what it's going to take to win this game and, specifically, how we have to win games at this time of the year. We are excited about the opportunity."
Panhandle State meets with the Lions on Saturday, Nov. 10 at 2 p.m. in Langston. The team hopes to see a pack of Aggie fans in the stands to cheer them on, but for those at home, live stats and video links will be available online at opsuaggies.com.
Justine Gaskamp Sports Information Director/Athletic Events Coordinator
See this article on our website: https://opsuaggies.com/news/2018/11/4/womens-volleyball-volleyball-ends-regular-season-on-the-road.aspx
Volleyball Ends Regular Season on the Road
Released by Panhandle State Sports Information on 11/04/2018
Beverly Hintergardt photo
Oklahoma City-After clinching a big conference win at home on Tuesday, the Panhandle State volleyball team fell in their final two SAC contests over the weekend. The Aggies were defeated by two Top-five teams from the Sooner Athletic Conference, dropping both matches in three straight sets.
On Friday, the Aggies met with top-ranked Oklahoma City University (27-3/SAC 18-2) and fell 25-10, 25-13, 25-12. Saturday's loss was against the league's No. 5 team from Southwestern Christian who won by scores of 25-17, 25-22 and 25-20.
OCU outhit the Aggies by over 30 percent and held Panhandle to a -.009 hitting percentage for the game. Quiara Poindexter led the team in kills with five, followed by Summer Middleton and Kendra Butler who each landed four kills. Middleton also put up points with a service ace along with McKenna Clement and Cailyn Berry who knocked in one service ace apiece. Clement totaled 26 digs at libero and Berry set up 13 assists. Courtney Adams led the Aggies in blocks with two.
On Saturday, the Aggies put in a strong performance at SCU, improving their hitting percentage to .259. Poindexter and Butler were the teams' scorers totaling 12 and 11 points respectively on kills. Middleton made away with nine kills and Clement and Berry both tallied two aces in the game. Berry tied with SCU's Darian Parsons for the game-high in assists, each with 37; and Clement held a game-high of 16 digs.
Head Coach Signe Coombs offered comments disclosing, "This was a disappointing weekend; particularly coming off of a week of playing our best volleyball." Coombs added, "We were sluggish and lacked intensity. These are things that we control and must change heading into conference play. We will regain focus during practice and in preparation for Tuesday, and set our sights on our post-season goals."
The Aggies stand No. 8 in the conference ranks with an overall record of 9-20 and an SAC record of 7-13. The team has achieved their best record in known history and qualifies for post-season conference play for the first time in program history. Panhandle State volleyball competes in the Sooner Athletic Conference Qualifying Match on Tuesday, Nov. 6 in OKC; they will face Oklahoma City at 7:30 p.m. and would advance with a win to the SAC Tournament Nov. 9-10, also taking place in Oklahoma City. Games will be covered with live stats and video links posted online at opsuaggies.com. More information will be released as it is made available.
Justine Gaskamp Sports Information Director/Athletic Events Coordinator
See this article on our website: https://opsuaggies.com/news/2018/11/4/road-woes-for-womens-basketball.aspx
Road Woes for Women's Basketball
Released by Panhandle State Sports Information on 11/04/2018
McPherson, Kan.—The Panhandle State women's basketball team took two losses in a weekend tournament hosted by McPherson College Friday and Saturday. The Aggies fell to Bethel College (63-49) and McPherson (66-46).
Friday's first outing saw the Aggies own a 29-25 lead at halftime, taking ten points off turnovers in the first two periods. A disappointing third period performance put just three points on the board for the Aggies who averaged 7.14 percent from the field and went 1-11 beyond the arc. With a ten-point advantage going into the final ten minutes of play, Bethel posted 21 points in the fourth period. Although the Aggies battled back with 17 points, they could not overcome the third-period slump.
Addison Munsch led the team in scoring with 11 points, including three made at the line. Munsch also held the team-high in rebounds with seven and offered two assists. Kelsea Illengo and Kaylee Morgan were the team's next leading scorers, putting up nine and eight points respectively; Illengo also brought down four boards. Monti Regier gathered a game-high with four steals and Taylor Acosta led the Aggies in assists with three; Regier and teammate Kim Best each had one block in the game. Overall the Aggies averaged 25 percent from the field, 17.9 percent from three-point range and 46. 2 percent in free throw shooting. Bethel shot 30.6 percent from the field, 23.5 percent beyond the arc and 75 percent at the line, adding 21 points in free throws. The Aggies were beaten at the boards 64-35.
On Saturday, McPherson held a healthy lead after the first two periods of play (34-20). Panhandle gave up 19 points in the paint during the first half. The team suffered another slow start after the break, scoring just six points in the third period. Panhandle put up a valiant effort, outscoring the Bulldogs 20-17 in the fourth, but were taken by 20 points in the end.
Leading the Aggies in points was Hannah Faulks who scored 16 points and had six rebounds, two blocks and two steals on the day. Regier and Munsch finished with nine and eight points each, and Munsch led the team in rebounds with eight; Regier landed three shots from three-point range. Morgan and Acosta combined for nine assists, with Morgan holding the game-high with five. As a team the Aggies averaged 26.1 percent from the field, 15.2 percent in three point shots and 41.7 percent at the line. McPherson held a 36.4 percent shooting average and hit 41.7 percent from three-point range and 61.8 percent at the line; they led 61-40 in rebounds.
Commenting on the losses, Head Coach Victor Esparza stated, "It was a tough road trip. Our offense struggled in both game, but our defense still held up which is a great sign. We just have to come back ready to work this week and prepare for our home-opener."
With a 2-2 record on the season, the Aggies look to improve as they host Friends University on Friday, Nov. 9 at 6 p.m. in Anchor D Arena. Live stats and video streaming will be available for those unable to attend in person. Visit opeuaggies.com for season ticket information and game links.
Justine Gaskamp Sports Information Director/Athletic Events Coordinator