Aggie Update: Football Team Finishes 6-5
Brock Kappelmann - November 12, 2018 12:35 pm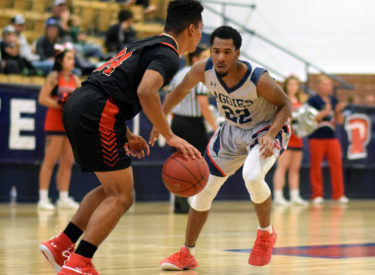 See this article on our website: https://opsuaggies.com/news/2018/11/13/mens-basketball-takes-command-over-calvary.aspx
Men's Basketball Takes Command over Calvary
Released by Panhandle State Sports Information on 11/13/2018
Rylee Higgins photo
Goodwell, Okla.—The Aggies marked another sizable spread Monday evening as they defeated the Calvary University Warriors at home in Anchor D Arena by a margin of 47 points (105-58).
All five starters posted double-digit numbers, with senior transfer Breiman Alexander holding a game-high of 27 points, including five shots landed from beyond the arc. Sophomore DK Sumo produced a double-double on 21 points and 12 rebounds and led the game in steals with four. Both Sumo and Alexander offered up game-highs of six assists each; Alexander was also credited with one of the Aggies' three blocks on the night.
Alan Hodge Jr. was the teams' second-leading scorer with 24 points; Hodge went 5-6 at the line, put up 15 points from the field and had one three-pointer in the game; additionally he totaled five boards, four assists and two steals. Another big force for the Aggies was junior forward Baris Ulker, who was not only a factor defensively, but came through on offense as well. Ulker knocked away two blocks, five defensive rebounds and got two steals, while also sinking four of five three-point attempts and contributing three assists; he finished with 16 points and eight rebounds.
Sophomore Thomas Ellis put in a physical performance, sacrificing on hard-hitting plays to gather one steal, four rebounds and ten points on the Warriors. Ellis was reliable at the line, going 4-4 on free throw shots; he also dealt out two assists.
The Aggies had gained a 21-point lead at halftime (48-27) and went on to post 57 points in the second half. They tallied 26 points on turnovers and 12 on second-chance shots. For the game, Panhandle State averaged 53.3 percent in shooting, landing 43.3 percent on long-distance shots and 75 percent at the line. Calvary shot at 40.7 percent and surrendered 22 turnovers in the game.
Panhandle State men's basketball now owns a 3-1 record on the season with two more matchups scheduled before they enter Sooner Athletic Conference play on Nov. 29. The Aggies meet with Barclay College Tuesday, Nov. 13 and face Our Lady of the Lake on Tuesday, Nov. 20; both contests take place in Anchor D Arena with 8 p.m. tip-off times. Free live stats and video feed is offered online at opsuaggies.com.
Justine Gaskamp Sports Information Director/Athletic Events Coordinator
See this article on our website: https://opsuaggies.com/news/2018/11/11/season-sealed-at-6-5-for-aggie-football.aspx
Season Sealed at 6-5 for Aggie Football
Released by Panhandle Sports Information on 11/11/2018
Justine Gaskamp photo
Langston, Okla.-Saturday's Showdown between Panhandle State and Langston left the Aggies one win away from a conference title. The Lions outmanned the Aggies 33-9 to clinch the first ever Sooner Athletic Conference Championship and maintain possession of the traveling brass bell trophy until the two teams meet again.
In their most frugal offensive effort of the year, the Aggies netted a meager 171yards and were allowed zero offensive touchdowns by the Lions. Panhandle posted 102 yards passing, the fewest fielded all season, and acquired just 69 yards on the ground. Langston amassed 548 yards of total offense, with 187 rushing and 361 passing.
Freshman kicker Eduardo Villarreal opened scoring with a 22-yard field goal at the end of the first quarter, giving the Aggies their first and only lead of the game. Langston answered with an 80-yard touchdown reception on their ensuing possession to take a four-point edge going into the second quarter (7-3). The Lions would tack on another six points before halftime, missing the point after touchdown on the 66-yard, two-play scoring drive (13-3).
The third quarter got off to a rough start for the Aggies as a forced fumble on their first play was recovered by the Lions in Aggie territory. Langston took two plays to score their third TD of the day and go up 20-3 with 14:04 left in the third quarter. Freshman Kyzen Hudson took the kickoff return 36 yards, setting up first-year QB Martez Vrana with nice field position. Vrana carried the Aggies to the Langston 20 yard line, but an interception in the end-zone haulted hopes for a second-half comeback.
The Darkside Defense did their best to dilute the damage. Diamante Pounds pulled away his first fumble midway through the third quarter, holding Langston deep on their own end of the field. On Langston's next drive d-lineman Justin Slaughter stripped another Lion ball which was recovered by Pounds and taken 20 yards for an Aggie touchdown (20-9). Without much rest, Panhandle's defense took the field and Langston's offense took advantage of the exhausted unit. The Lions worked 11 plays into a 75-yard scoring drive that pulled the Lions into a 26-9 lead going into the fourth quarter. The Aggies suffered one lost fumble and two turnovers on downs in the fourth quarter, while the Lions found one more opportunity to put points on the board and walk away with a win (33-9).
Vrana finished the game with 111 all-purpose yards, going 14-29 in passing for 102 yards; he had nine yards on the ground. Sophomore George Dominguez led the running backs with 35 yards rushing and senior Nick West came down with four receptions for 50 yards receiving. For Langston, quarterback Jaylen Lowe totaled 361 yards passing, completing 20 of 31 attempts. Lowe also led the Lions' rushing efforts, netting 131 yards and three touchdowns on 22 carries. Receiver Cameron Booty totaled 144 yards on seven receptions for one TD in the game. Defensively, the Aggies were led by D'Darrin Primes and Charoy Joseph with seven tackles each; Primes also had one tackle for loss and Joseph was credited with two pass breakups. Braden Price had the only sack for Panhandle and totaled six tackles along with senior Jawan Purifoy who also slated six tackles in the game.
Head Coach Russell Gaskamp gave credit to both his team and their opponents stating, "Going into the year our main goal was to give ourselves a chance, implying to get to the Langston game with a chance to win the league. Langston has a good football team. We wish them the best of luck in the playoffs." Gaskamp added, "On our best day I believe Langston and us are a very close game, but we definitely did not play our best against them on Saturday. The youth of our football team along with the countless injuries finally caught up to us. You hate to send your seniors off like that, but I believe it will be a learning experience and motivating tool for the off-season going forward."
The Aggies ended the season with a 6-2 record in the SAC to sit second in the conference standings. A full post-season recount will be released in the coming week. Congratulations to Panhandle State Football on a winning season and their success within the Sooner Athletic Conference.
Justine Gaskamp Sports Information Director/Athletic Events Coordinator
See this article on our website: https://opsuaggies.com/news/2018/11/11/womens-volleyball-berry-butler-and-clement-earn-sac-all-conference-honors.aspx
Berry, Butler and Clement Earn SAC All-Conference Honors
Released by Panhandle State Sports Information on 11/11/2018
Goodwell, Okla.-After posting an historic season record and achieving a post-season appearance for the first time in program history, three Aggies were named to the Sooner Athletic Conference 2018 All-Conference volleyball teams.
Juniors Kendra Butler and McKenna Clement each earned Second Team spots on the All-Conference roster, for their positions at middle blocker and libero respectively. Setter Cailyn Berry claimed Honorable Mention recognition for her stellar freshman season.
Butler posted the second All-Conference season of her career and finished 2018 as the conference leader in Hitting Percentage, averaging .280 with a total of 250 kills on 589 attacks for the year. She ranked No. 10 in the league for kills with an average of 2.6 per set over 95 sets played. Head Coach Signe Coombs commented with pride of her players' status stating, "Kendra [Butler] was a dominate force for us at the net this year. Her strength, consistent hitting percentage and dynamic tendencies earned her respect around the league."
Another two-time All-Conference honoree, Clement has claimed consecutive Second Team listings in the SAC. She stands third in the conference ranks for Digs per Set and averaged 5.1 digs over 92 sets played. Ranking No. 5 in Digs, Clement totaled 466 on the season. Coombs confirmed, "McKenna [Clement] is a competitor, hard-worker and came to compete to win every night. Those attributes translated to her being recognized as one of the top liberos in our conference."
Of Berry, Coombs continued, "Cailyn [Berry] had tremendous growth this year as a 5-1 setter. She was open minded to the changes and challenges we threw her way. The game really slowed down for her and she was able to run an effective, productive offense while improving defensively as well." Berry offered 728 assists on the season to land tied at No. 4 in the conference standings; she averaged eight assists over 91 sets played.
Congratulations to Panhandle State volleyball and our three All-Conference honorees. A full post-season release will follow. The complete list of SAC All-Conference players can be found online at soonerathletic.org.
Justine Gaskamp Sports Information Director/Athletic Events Coordinator
See this article on our website: https://opsuaggies.com/news/2018/11/11/womens-basketball-munsch-and-acosta-account-for-35-points-in-aggie-win-over-falcons.aspx
Munsch and Acosta Account for 35 Points in Aggie Win over Falcons
Released by Panhandle State Sports Information on 11/11/2018
Point guard Taylor Acosta totaled 22 points, six rebounds and had one assist and one steal against Friends University.- Sam Ortiz photo
Goodwell, Okla.-Notching their third win of the season Friday evening, the Panhandle State women's basketball team took on Friends University and posted a 64-57 victory in their home-opener at Anchor D Arena.
Senior Taylor Acosta and junior Addison Munsch led the Aggies in scoring, with Acosta posting a game-high of 22 points and Munsch contributing 13. Acosta and Munsch combined for 12 boards in the game with six apiece. Freshman post Kim Best fell just shy of a double-double, totaling nine points and a team-high of ten rebounds. Hannah Faulks was also a force at the boards with eight defensive rebounds, and offered up a game-high of ten assists on the night.
The Aggies started strong, taking a 13-8 led after the first period of play. The Falcons fought back and outscored the Aggies 14-13 and 18-17 in periods two and three, but Panhandle State stayed the course, winning the fourth period 21-17 to clinch final victory.
Faulks opened scoring for the Aggies, sinking the first layup of the game, and Acosta gave Panhandle a 6-0 lead with back to back baskets. The home team held the advantage through the third period, not relinquishing the lead until the 7:41 mark in the fourth; Friends hit a three-point shot to claim favor for the first time in the game (44-43). Munsch and Acosta quickly quelled any momentum shift, scoring on consecutive layups to edge the Aggies back into a three-point lead. The Aggies would allow only one more lead change in the final six minutes of play.
As a team, Panhandle State shot at 32.3 percent from the field, 30 percent beyond the arc and 66.7 percent at the line. Acosta landed three of four long-distance shots and went 5-7 in free-throw attempts. The Aggies outmatched their opponents at the boards 49-34 but lost the turnover battle 24-15, giving up 15 points off turnovers.
Head Coach Victor Esparza accounted on the victory stating, "It was a great team win. I'm proud of our team, and the way we played tonight. We responded well for our first home game of the year." Pleased with the Aggies' defensive efforts, Esparza added, "Our defense was solid for the majority of the game, we know that's going to carry us until our offense gets on a roll." He continued, "We fed off our crowds' energy and it's great to get all the support from the stands."
Panhandle State women's basketball takes back to the road this week with an exhibition matchup against Missouri Southern State University on Tuesday, Nov. 13 at 5:30 p.m. Live stats and video links are available online. The team returns to Anchor D Arena the following week with a game against Northern New Mexico College on Tuesday, Nov. 20 at 6 p.m. and will enter Sooner Athletic Conference play after the Thanksgiving break.
Justine Gaskamp Sports Information Director/Athletic Events Coordinator