Aggie Baseball Sweeps Dakota State
KSCB News - February 18, 2014 6:25 am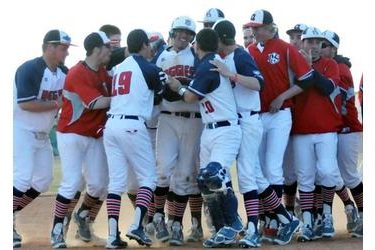 By Justine Gaskamp on 02/17/2014
Goodwell, Okla.-OPSU baseball gave Aggie fans an exciting two days of
baseball as they took on Dakota State in a three-game series starting Sunday
afternoon and wrapping up Monday.
Freshman Sam Beattie started on the mound for the Aggies in game one,
pitching a complete seven innings and shutting out the Trojans 1-0 to earn
his first win of the season. The Australian pitcher only had one hit against
him and tallied ten strikeouts with only one walk.
The Aggies' one run took place in the fourth inning when Ruben Aguirre
singled, bringing in Peyton Osbon from third for the RBI.
The wind died down for the second game, but the action heated up. Spencer
Long was the stating Aggie pitcher and threw five innings taking three hits
and one run.
The Trojans scored first with one run in the third inning and the Aggies
answered in the fourth when Dylan Dudley blasted a double with two outs
bringing in Aguirre for the score.
Adam Burke came in to pitch for the Aggies at the top of the sixth; Burke
pitched four innings allowing seven hits and two runs.
The bats cooled down in innings five through eight, but things livened up in
the ninth as each team brought in two runs apiece. Dakota State brought in
their third pitcher for the day, and Aguirre hit a lead-off double to
welcome him to the mound. Aguirre then advance to third on a wild pitch.
Nick Crosswhite grabbed another double off the Torjan pitcher, which brought
Aguirre across home plate. Crosswhite then advanced to third as Robert
Montoya grounded out for the first out. Another wild pitch brought
Crosswhite home and the following to hitters closed out the inning.
Guymon native Walker Rainwater came out of the bullpen to pitch the tenth
inning for the Aggies. Rainwater allowed two runs which brought the Trojans
up 5-3.
Dakota State also made a change on the mound, bringing in Seth Spears who
started with the 1-3 out on Lucas Ogaz. Peyton Osbon advanced to first after
being hit by a pitch.
The Trojan pitcher was rattled from that point on as he advanced Osbon on a
balk. Jordan Bernal grabbed a quick single and then then was immediately
advanced to second on another Spears balk which also advanced Osbon home to
bring the Aggies within two runs of a win.
With one out, the Trojans brought in a new pitcher who opened by walking
Nicolas Zieniuk putting runners on first and second. Ruben Aguirre was next
up at bat and slammed a double brining in Bernal and Zieniuk for the Aggie
win (6-5). Rainwater earned his first win of the season.
Monday brought mild weather and another exciting showdown. Dakota State lit
up the scoreboard early knocking in three runs in the first inning. Tom
Parker was the starting pitcher for the Aggies and went five full innings
taking seven hits and four runs.
The Aggie bats came alive in the fifth as Bo Ybarra and Jacob Milburn each
crossed home plate: Ybarra reached first on an error by third base as did
Milburn. Ybarra stole third and was brought home by a sacrifice fly from
Lucas Ogaz. After two outs Jordan Bernal hit a single to bring in Milburn
for the RBI.
Dakota State scored one run in the fifth and was up 4-2 going in to the
sixth. The sixth inning remained scoreless as Josh Casillas came in to pitch
for the Aggies.
The Aggies brought in two runs in the seventh tying the game at 4-4; Ogaz
and Osbon each crossed home. Dylan Chavez came in to pitch for the Aggies
advancing two runners on a balk, putting runners on second and third. Two
Trojan RBIs followed and Dakota State ended the inning up by two with a
score of 6-4.
Chavez walked the first batter at the top of the ninth, got the next pitcher
out on a fielder's choice and followed with two straight strikeouts.
Lucas Ogaz stepped up with a big triple to open for the Aggies and was
brought in on a sac-fly by Peyton Osbon. A fourth Trojan pitcher entered the
game after Jordan Bernal was walked to first. With two outs Ruben Aguirre
found himself in a familiar situation, but this time advanced on a walk. It
was senior Nick Crosswhite who saved the day by hitting a double and
bringing in two RBI and giving the Aggies their third win of the season. The
freshman pitcher Chavez grabbed his first win as an Aggie.
OPSU head baseball coach Steve Appel had this to say after game three:
"Winning three one-run ballgames is huge for this young group. We have been
struggling to score runs and to now know they can come back and win two
games in a row is huge; it should give this group a ton of confidence going
into Wednesday's matchup and then into conference play. I think once we put
all facets of the game together, this group can be a dangerous team to
watch. These guys are hungry to turn this place around and winning these
tight games allows them to relax and do their thing in future games."
Leading the Aggies in hitting was Ruben Aguirre who averaged .455 with two
runs and three RBI. Nick Crosswhite also brought in 3 RBI and totaled 21
putouts from first base.
The Aggies totaled 19 hits and 12 RBI for the series and their record now
stands at 3-7. They will travel to Moore, Okla. Wednesday to take on
Hillsdale Baptist and will continue on to Fort Smith, Ark. for a three-game
series with UA-Fort Smith Feb. 21-22.