Accident on Pancake Ave Causes Minor Injuries
Joe Denoyer - October 16, 2019 8:49 am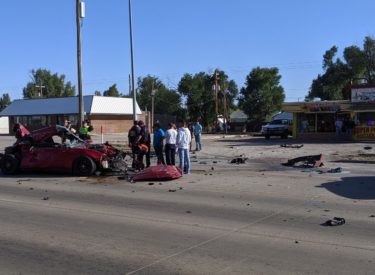 On Tuesday, October 15, 2019 at approximately 4:26 p.m., emergency responders were dispatched to the 100 block of West Pancake Boulevard for a report of an injury accident. Responding officers found that a 2012 Ford Mustang had collided with a semi tractor and trailer.
Investigating officers found that a 17 year old male was driving the Mustang. The Mustang had just left a private drive at a high rate of speed and was traveling west on Pancake Boulevard. The driver of the Mustang lost control of the vehicle and crossed the roadway into oncoming traffic. A semi tractor and trailer, driven by a 33 year old male, was traveling east on Pancake Boulevard when it was struck by the Mustang. The semi trailer drove over the top of the Mustang causing significant damage.
The Liberal Fire Department and Seward County EMS responded to the scene. The driver of the Mustang had minor injuries and was transported to Southwest Medical Center by private transportation. The driver of the semi truck was not injured. Both vehicles were towed from the scene.
A citation was issued for the driver of the Mustang for reckless driving.