UPDATE: Accident Near Plains Involves School Bus
Joe Denoyer - March 19, 2018 8:42 pm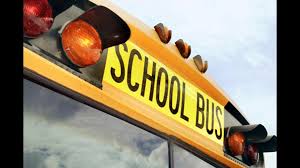 A three vehicle accident involving a USD 483 school bus occurred late Monday afternoon near Plains KS. The accident occurred at about 3:41 p.m. on U.S. Highway 160 and Ontario Streets in Plains.
The accident occurred when a 2012 Bluebird School bus being driven by Donna Nosekabel, 82, of Plains was Northbound on Ontario Road approaching US 160. She stopped at the stop sign at the intersection, then proceeded to initiate a left turn to travel west on US 160. In doing so, she failed to yield the right of way to a 2013 Freightliner Semi being driven by Ramiro Galeana-Espino, 43, of Garden City, who was traveling east on US 160. A third vehicle, a 2001 Ford Excursion being driven by Lindsey Alison Roberts, 37, of Plains was westbound on US 160 with the intention of turning right onto Ontario Road.
The Semi steered left towards the ditch, at the northeast corner of the intersection in an attempt to avoid hitting the school bus, but the two vehicles collided, with the semi impacting the front driver side of the bus. The Excursion steered towards the right to avoid the collision with both vehicles but as the semi continued towards the ditch, the front of the semi impacted the front of the Excursion.
Several injuries and possible injuries were a result of the accident, Those with injuries or possible injuries on the school bus include the driver, Donna Nosekabel, she was taken to Wesley Medical Center in Wichita. Taken to Southwest Medical Center from the bus were, Adan Garcia Rodriguez, 15, Alexandra Lucero Valle, 13, Michael Alexander Krull, 9, Alyzia Renya Daughtery, 13, Michelle Addison Reiss, 7, Sherri Condit, 59, Gabriel Amerin, 9, Kayden Gonzalez Lujano, 4, and Edwin Gonzalez Lujano, 10. Students Taken to Meade District Hospital were Chaz Lukas Ray, 6, Slade Cooper Ray, 8, Kayleen Joyce Langhoffer, 12, and Cole Deuane Langhoffer, 9.
The driver of the semi Ramiro Galeana-Espino was taken to Minneola District Hospital, and an passenger in the Excursion Reagyn Roberts, 6, was taken to Meade District Hospital to be treated for her injuries.