Accident Caused by Sleepy Driver
Joe Denoyer - March 5, 2022 3:29 pm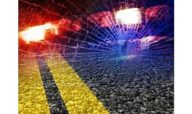 A Personal injury accident occurred Saturday March 5th approximately 10 miles south of Beaver, OK, in Beaver County.
A 2004 Saturn ION, driven by Dalton Brown 31, of Woodward, OK, was northbound on OK-23, when he stated he fell asleep, departed roadway to the east, rolled ¾ times coming to rest on passenger's side door.
Brown was ejected approximately 2-3 feet, while the car came to rest on the driver.
Brown was transported by Beaver County EMS to Beaver County Memorial Hospital in Beaver, OK, before being flown by Air-Evac to OU Medical in Oklahoma City, OK.
He admitted in stable condition with trunk internal and trunk external injuries.