Aaron Schaffer Wins PTCI's Text Messaging Contest
KSCB News - June 10, 2009 12:00 am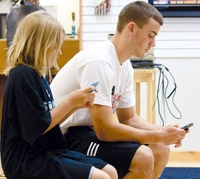 PTCI, held their Second Annual Text Tournament on Friday, June 5, 2009.
PTCI's Text Messaging tournament allowed for locals to exhibit exactly how good they were at it. Winning the competition was Aaron Schaffer of Liberal, Kansas. Placing second was Shelby Remling of Hooker.
The tournament was double elimination and consisted of one-on-one matches where a phrase appeared on a screen. The contestant then had to text it back to PTCI with no abbreviations.The person who did it the fastest and most accurately then moved on to the winner's bracket.
PTCI holds text messaging contests at area high school basketball games and ultimately a grand tournament each year, naming a 'Text Champion.'
"We definitely had a better turnout and we'd like to see it grow," said Stephanie Chapman, PTCI Public Relations Representative. "It was a lot of fun for the kids."