A Tale of Two Halves in SCCC Loss to Conqs
Brock Kappelmann - November 27, 2022 8:11 am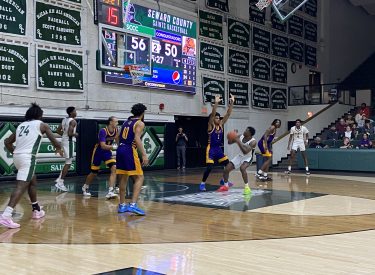 The Saints appeared to be in control of the game leading #22 Dodge City throughout the first half.  But the visiting Dodge City Conquistadors dribbled circles around Seward in the second half to sink the Saints 90-81 Saturday afternoon and evening in the Green House.  Seward led 46-38 at the half but the Conqs shot 65 percent in the second half out scoring the Saints 52-35.
The Saints built leads of 22-16 and 44-37 before taking the 46-38 lead at the half.  Seward took an 11 point lead at 49-38 after a leaning Wilson Dubinsky three pointer early in the second half.  Dodge City finally took the lead at 57-56 with 13:20 to play.  Dodge lead 72-65 with 7:01 to play.  They went up nine at 7-68 with 4:37 remaining.
Dodge City shot 56 percent from the field.  Seward shot 42 percent.  The Saints shot 50 percent in the first half and 33 percent in the second half.
Jaylin Henderson had 23 points and six rebounds to be Epic Touch Player of the Game  and Blessin Kimble had 19 points and 12 rebounds.  Wilson Dubinsky had 16.  Mario Whitley had 111 points and seven rebounds.
Seward is 5-2 overall and 2-2 in the Jayhawk while Dodge City improves to 7-1 overall and 3-0 in the Jayhawk.  Seward plays at Cloud Wednesday night at 8pm on 107.5.