A Sweet Three Peat for Saints
KSCB News - February 28, 2013 7:27 am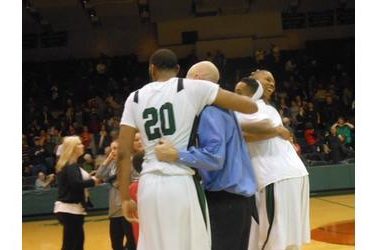 The Seward County Saints are Jayhawk West champions for a third consecutive season. Seward's Malcolm Hill Bey found Leslee Smith who banked a two footer off the glass with 4.5 seconds remaining. Hutchinson point guard D'von Campbell three missed and the fans rushed the court as Seward won 62-60. The Saints finish a school best 14-2 in the Jayhawk West.
The #5 Blue Dragons led most of the game and led 29-24 at the half. The Dragons led by as many at eight at 44-36 as they fall to 27-3 and 13-3 in the Jayhawk West.
The Saints were strong in the paint at 6'10" Edson Avila scored 19 and grabbed eight rebounds and 6'8" 250 pound Leslee Smith scored 16 points and grabbed 10 rebounds. Jabari Peters added 12 including an "and one" layup to give the Saints a 60-56 lead. But Hutchinson's Alex Davis nailed a deep two from the right corner and then a Hutchinson steal and layup tied the game with 11 seconds left. But much like November 30 when Seward won at the buzzer over Odessa (55-54) Hill Bey drove the lane and found a big guy for the winning shot.
Seward is 23-7 overall and hosts Colby Saturday night at 6 in the first round of the Region 6 Tournament. Collin's Diamonds is the buyout sponsor.
Wed. Feb. 27
Neosho County def Highland 90-81 OT*
D2#7 Brown Mackie def Hesston 80-57**
D1#2 Coffeyville def Kansas City KS 83-81*
Cowley def Labette 70-65*
Johnson County def Allen 58-57*
Butler def Dodge City 56-53*
Pratt def Colby 65-57*
Independence def Fort Scott 96-77*
D1#24 Barton def Cloud County 79-57*
D1RV Seward County def D1#5 Hutchinson 62-60*