A Successful Senior Send Off for OPSU
Brock Kappelmann - November 14, 2017 6:49 am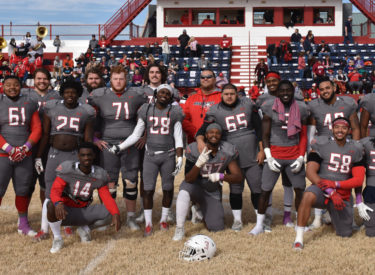 Goodwell, Okla.-On Saturday, Nov. 11 the Panhandle State campus was buzzing. The school was showing off its goods with a Preview Day to potential enrollees. The tailgate area was jammed packed with the 11th Annual Chili Cook-Off as attendees reaped the benefits of complimentary deliciousness. Then the day ended in awesome fashion as the Aggie football team held up their end of the festivities by providing a 65-6 dominating victory over Texas Wesleyan to its home fans on Senior Recognition Day. It was a good day to be an Aggie indeed.
The game got off to a strange start as the Rams of Texas Wesleyan pulled out a surprise onside kick out of their bag of tricks and recovered it. However, the Aggie Defense responded, as they have all season, and stiffened up to make the Rams punt away. The onslaught began as the Aggies offense would only punt once in the first half, scoring on six of their first seven possessions in the game. John Polston, making his second start of the season, went 17-21 for 281 yards and four touchdowns through the air while adding a rushing score. The air assault was spread evenly as 11 receivers caught passes in the game led by Nick West with four catches for 63 yards. Kameron Taylor, Brady Barrett, Braylon Chandler, and Jake Martinez all hauled in touchdown receptions.
The Aggies' offensive run game was just as dominate as the backfield rushed for 257 yards while averaging six yards per carry. Rushing touchdowns were scored by Polston, QB DJ Scott, and seniors Preston Baker and Cedric Agyeman. Agyeman led the rushing attack with seven carries for 71 yards in his final game. Baker contributed 11 carries for 49 yards and Orlando Haymon rushed 11 times for 65 yards to create a three-headed monster against the Rams.
The Darkside Defense was not overshadowed on this day though, turning in one of their best performances of the year. They would only give up 173 yards of total offense on the day to the Rams, holding them to no points until the Rams last possession on the game. Sophomore Nathan Leithead got the defense on the board to help create the fifth-highest scoring day in Panhandle State Football history with his third quarter interception for a touchdown to make the score 51-0 at the time. Senior captain Zachary Perez Clack led the defense with ten tackles from his nose guard spot that he has manned for the last three seasons. The front seven was in the backfield all day creating 11 tackles-for-loss, playing suffocating defense throughout the afternoon. The performance put an exclamation point on a great year led by defensive coordinator Eric Daniels in which the Aggies D would end the season as the nation's seventh ranked overall defense, giving up only 294.4 yards per game.
As expected Coach Gaskamp was extremely excited after the victory, "I am so pleased that we were able to send our 17 seniors off the right way. After the two tough home losses it would have been easy to lose the guys but our staff and our older players held everyone accountable and we responded the way you have to when you face adverse situations, by fighting your way back. Our teams have always been resilient, and that starts with your older players. I am so proud of them as players and as people; we could not have asked for a better group. It was a great showcase day for our program and our campus and I am very excited for what the future holds for this team."
The Aggies finish at 7-3 in their inaugural season in the Central States Football League. As final NAIA polls came out over the weekend, the team cracked into the top 25 nationally with a No. 24 ranking. Coach Gaskamp also noted, "I want to personally thank our fans for the awesome support through the highs and lows during the season. I think we have the best home fans in NAIA, and we can't wait to see what you have in store for us next year!"
[For Email OPSU_LOGO_FINAL-Signature]
Justine Gaskamp