A Saints Nation
KSCB News - July 11, 2011 3:46 pm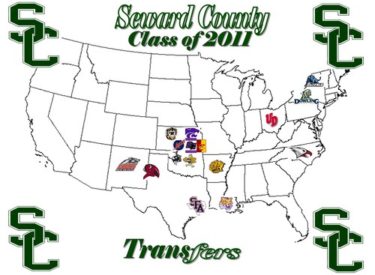 One of the fun parts of a usually slow summer around a
junior college athletic department is checking in to see where departing
sophomores have decided to take their talents for the upcoming year.
This year, the Seward County sophomores seem to be staying a little bit
closer to home which is nice for their loyal Saints followers. However,
the graduated Saints and Lady Saints will still represent Seward in 9
different states and 16 different schools as they enter the second half
of their academic and athletic careers this fall at Universities and
Colleges around the country.
Baseball
Eddie Williams- University of Arkansas-Pine Bluff (Division 1)
Jake Barrios- Louisiana State University (Division 1)
Jon Mestas- University of Buffalo (Division 1)
Tyler Hill- University of Arkansas- Pine Bluff (Division 1)
Jace Moore- Newman University (Division 2)
Paul Pulley- West Texas A&M University (Division 2)
Logan Hall- West Texas A&M University or North Carolina Central
University
JT Bean- University of New Mexico (Division 1)
Jose Gonzalez- Stephen F. Austin University (Division 1)
Men's Basketball
Marquez Patterson- Northwestern Oklahoma State University (NAIA)
Isaiah Thaw- Southwestern College (NAIA)
Marky Nolen- Pittsburg State University (Division 2)
Jeremy Jones- Kansas State University (Division 1)
Softball
Leah Sitter- University of Dayton (Division 1)
Sydney Cicchetti- University of Dayton (Division 1)
Women's Basketball
Morgan Skomal- Upper Iowa University (Division 2)
Kendra Spresser- Fort Hays State University (Division 2)
Women Tennis
Fanny Benincasa- North Carolina Central University (Division 1)
Kauana Goncalves- Dowling College (Division 2)
Volleyball
Sheina Fernandes- Oral Roberts University (Division 1)