A Resounding Return for the Saints
Brock Kappelmann - March 25, 2021 7:16 am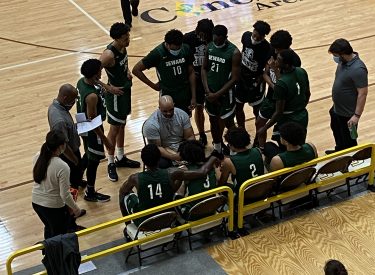 The Seward County Saints were ready.  After being forced to forfeit three games for leaving their bench after the double overtime loss to Dodge City, Seward returned to the court Wednesday night at Conestoga Arena in Garden City and blew out the Broncbusters 84-53.  With coach Jason Sautter suspended indefinitely by SCCC, assistant Tyrone Grady led the team to the win on the bench.
The Saints jumped ahead 17-13 and 26-15 in the first half.  Seward led 30-17 before a 34-22 lead at halftime.  Seward jumped out to a 20 point lead 48-28 in the second half and never looked back.  Seward had leads of 46-30, 57-36, 61-40, 64-40, and 70-40.
Seward shot 48 percent from the field and made 9-20 from three point range.  But it was their defense that did it.  The Broncbusters shot 33 percent from the field and were 2-20 from three point range.  Garden committed 22 turnovers.
Bee McCrary and Erik Pratt had 15 a piece.  Ahmad Gallimore had nine.
Seward is 6-11 after three forfeited games.  Garden City is 8-9 overall and 7-9 in the Jayhawk West.  Seward wins their third straight in Conestoga Energy Arena.  The Saints host Colby Saturday night at 8 in the Green House on 107.5 and kscbnews.net.