A Redskin Romp in Round One
KSCB News - October 28, 2015 7:12 am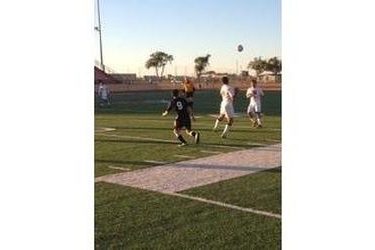 The Liberal soccer team made quick work of Great Bend in the first round of the 5A soccer playoffs Tuesday at the Gary Cornelsen Sports Complex. LHS built a 5-0 halftime lead and won 6-2.
Eliel Gonzalez scored the first goal into the north goal with a Mike Fonseca assist a the 19:37 mark. Jonathan Del Val scored with a Brian Alvarez assist at the 15 minute mark. LHS scored 16 seconds later as Alvarez scored with a Del Val assist. Alvarez scored on a corner kick from Del Val at the 11:57 mark to make it 4-0. Gonzalez scored with a Del Val assist to make it 5-0 with 4:47 remaining before half. Great Bend scored on a penalty kick with 25:59 to play and scored again at the 16:24 mark to make it 5-2. Fonseca sound the back of the south net with 4:01 to play with an Angel Archuleta assist.
Liberal is 11-6 and plays the program which knocked them out of the second round last year, Bishop Carroll. The Redskins play in Wichita against Carroll Thursday at 6. The 12-3-1 Eagles breezed by Salina Central Monday night.