A Red Scare
KSCB News - October 23, 2010 12:00 am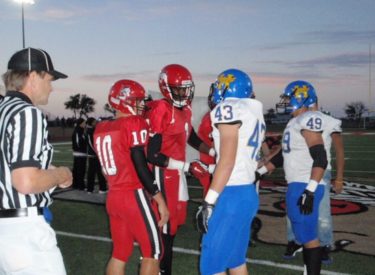 It wasn't the situation the 6 time defending state champions expected. Hutchinson led a desperate Liberal team 13-6 with one second to play before half. The Salt Hawks would score with .1 to go before half and lead 21-6 at haltime and win running away 41-13 Friday night at Redskin Field. But it was Hutchinson's closest win of the season. Liberal head coach Wade Standley says his team gave it a good effort. "I'm extremely proud of the way our young men came out and played the game," Standley said. "They stood toe to toe with those guys. We stopped them on defense several times. Offensively, we had some great drives during the first half especially. We talked all week long about playing it one play at a time and one victory at a time. We did not get the victory we wanted tonight. We had a lot of small victories tonight."
Hutchinson put up 420 yards which was 37 yards less than their average. Liberal had 221 yards which is 18 yards over the Salt Hawks' defensive average.
Hutchinson fumbled on their opening drive and Tyson Deaton recovered at the one. However, Liberal went three and out offensively and punted to Hutch. Hutchinson's Ben Heeney took it in from four yards out at the 3:34 mark. Liberal took the ball back and used 16 plays for a drive which ended in a blocked 43 yard field goal attempt. Liberal had a Jade Cathey touchdown called back due to offensive pass interference. Hutch scored first in the second quarter on an electrifying 46 yard run by Ja'Mon Cotton but the point after failed so it was 13-0 with 6:16 to play in the first half. LHS came back with a 10 play scoring drive capped by a 12 yard touchdown pass from Slader McVey to Jade Cathey. It was McVey's 13th TD pass of the year and Cathey's ninth TD reception. That made it 13-6 with 2:12 to play. Hutchinson came back and Hutch quarterback Trevor Turner found Heeney for a 15 yard touchdown. The Salt Hawks dominated the third quarter and put the game away. A Heeney one yard run made it 28-6 with 9:46 to go. A Heeney 30 yard run made it 34-6 with 6:58 to play in the third. After a McVey deep pass was intercepted by Scott Weber to end the third quarter, Hunter Stucky's six yard run made it 41-6 with 10:04 to play. That's when the 7-1 Salt Hawks started bringing in backups. McPhail's four yard touchdown with 1:13 to play made it 41-13 for his seventh TD of the year.
Liberal is 2-6 and will not go to the playoffs for the first time since 2000 and the second time since 1990.