A Look Back at the 2014 Local Sports Year
KSCB News - December 30, 2014 3:42 pm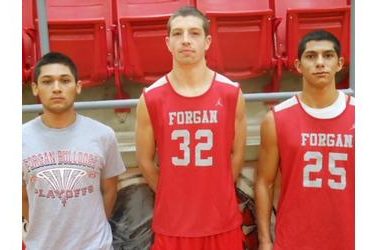 It was another fun sports year here at the KSCB sports desk. Here are the top five local sports stories of 2014 and you can click on the audio icon to hear play by play highlights from the LHS, SCCC, and BJ seasons.
1. Forgan Wins State Championship- Forgan won their third Class B state boys basketball championship in four years last March in Oklahoma City. The Bulldogs beat Lookeba-Sickles 77-69 for the state title as they finish 29-1. Jace Kerr scored 23 with nine rebounds and five assists and Trevin Lopez scored 20 in the win. Chandler Bryer scored 15 and Dee Alston added 13 points with 10 rebounds. Forgan also won state in 2011 and 2012. Last year they finished 26-3 and lost in the first round of the state tournament to eventual state champ Coyle.
2. Hooker Wins Cross Country State Title- The Hooker cross country boys won the 2A state championship this fall. They beat second place Watonga by 40 points. David Perez took third while his brother Esteban Perez was fifth. Ethan Neal took 11th while Ryan Williams was 13th and Brandon Goosen was 17th. The team joined their football team for a special On the Sidelines Show at Billy's in November. The state title was the first for the cross country program since 2007.
3. Legendary Southwestern Heights Coach Retires- The 2013-14 basketball season was Barry Mellen's last as head coach at SWH. He finished with 655 total wins while his final team was 9-12. About 45 of his former players made their was back to SWH to honor him during his final home game. Mellen finished his 29th season as the head coach of the Lady Mustangs. He has won 574 games at SWH. The Fredonia native had won two state titles, led six teams to state tournaments while coaching in five state championship games. His teams won 16 sub state titles, 18 Hi Plains titles, and 31 regulars season tourament championships.
4. Saints Continue Jayhawk West Dominance- The Seward County men's basketball team won their fifth Jayhawk West title in seven years and their fourth consecutive conference title in 2014. Seward finished 11-3 in the KJCCC West with a 23-10 overall mark. They were led by Niem Stevenson's 19 points per game. Stevenson was the freshman of the year while Secean Johnson was the player of the year and coach Bryan Zollinger was the coach of the year. Pratt beat SC at the buzzer in the Region 6 Tournament.
5. Redskins Win District in Cline's First Season- The Liberal football Redskins shrugged off an 0-4 season in the WAC by winning District 8 in class 5A. The Redskins won at Goddard 27-23, beat Goddard Eisenhower 13-10 at Redskin Field, and blanked Ark City 20-0 on the road. At the Feb. 10 Board of Education meeting, USD 480 administration recommended that Caleb Cline take over as head coach of the Redskin football program. Cline, a 2002 LHS graduate, has served as defensive coordinator since 2011. Cline finished his fourth year as head track coach and has taught at LHS as an industrial arts teacher since 2006.