A Heat Advisory for Bee Jays
KSCB News - June 30, 2012 7:09 am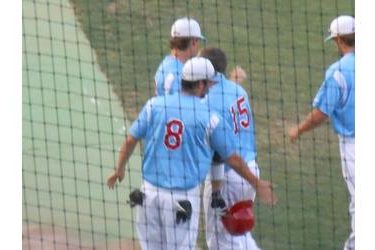 Maybe the Haysville Heat were just due. On a day when the batting practice temperature was 106 with 3 mile per hour winds, maybe the Heat, who have won the past two Jayhawk League titles, demonstrated they are not out of it yet. The Heat beat the BJ's 5-3 at Brent Gould Friday night.
The Bee Jays just mustered seven hits as soft throwing lefty from Kansas Wesleyan Matt Royal Stymied the Bee Jays only allowing one run. The Heat looked like a last place team the first two innings stranding the bases loaded without scoring in both innings. But Haysville broke through in the third with three runs and five hits against BJ starter Sabastian Santos who only lasted four innings. The Heat scored two more against relieve Dalton Bernardi from OCU who was otherwise solid allowing just the two runs in six innings of relief.
The Bee Jays didn't really pose too many threats offensively stranding only four runners on base before the ninth and six for the game. OCU's Johnathan Sigado blasted a towering homer over the scoreboard in the sixth. Liberal scored two unearned runs on a Haysville error in the ninth.
Liberal's eight game home winning streak is over as they fall to 16-7 overall and 10-7 in the Jayhawk. Haysville is 7-13 but still at the bottom of the Jayhawk.
The Bee Jays host Bob Carlile Night Saturday night to pay tribute to a lifelong BJ supporter who passed away January 6 as active BJ General Manager. There will be a ceremony at 6:40 Saturday night and it will air on Talkradio 1270.