A Garden Party at Redskin Field
KSCB News - October 1, 2011 7:49 am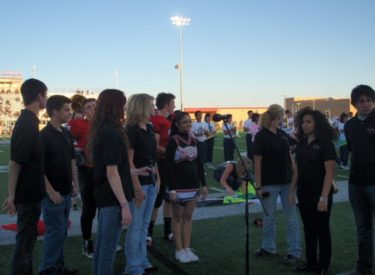 With a big homecoming crowd including Gary Cornelsen and many of his athletes from the golder 90's era in attendance, Garden City stole the show. The Buffaloes jumped all over the Redskins for a 21-0 lead after one quarter and a 42-0 lead at halftime. The lead quickly ballooned to 52-0 in the third quarter before the Garden City back ups entered the game to preserve a 52-21 win at Redskin Field.
Garden City showed why they have the best defense statistically in the WAC. They held the Skins without a first quarter first down and used a short field to score three touchdowns. A Zach Lamb one yard run made it 7-0 at the 5:06 mark. Liberal turned the ball over and quarterback Jake Curran, the son of LHS graduate Sam Curran found Taylor Foley for an 18-yard touchdown in the north endzone. Liberal turned the ball over on the kickoff return and Curran wasted little time in finding Jayden Delarosa for a 26 yard score to make it 21-0. Three touchdowns in 2:30 minutes shocked the big homecoming crowd.
Lamb rushed for touchdowns of 11 yards (10:21) and one yard (2:08) in the third quarter. A blocked punt led to an Asa Gottsponer touchdown toward the end of the half to make it 42-0 Garden City.
Antonio Rubio took over in the third quarter with an 18 yard TD. He rushed for all 163 of his yards in the second half. Chavez kicked a 20 yard field goal to make it 52-0 with 3:10 to play in the third. Garden City brought in their backups and Isaac Gallegos ran a nine yard and 10 yard touchdown with a 10 yard Britton Abbott touchdown in between.
Liberal turned the ball over three times making 10 in three WAC games. Garden City had 377 yards and Liberal had 207.
Senior receiver and strong safety Michael Sena played some in the first half with an injury but did not play in the second half.
Garden City is 3-2 overall and 2-1 in the WAC while the Redskins fall to 1-4 overall and 0-3 in the WAC. The Buffaloes win their fourth straight over Liberal. LHS had dropped 13 straight WAC games.
During halftime Diana Frausto was named homecoming queen.
Legendary former Liberal coach Gary Cornelsen was recognized during halftime. His former track and football athletes and participant line the field behind him during a ceremony recognizing the Gary Cornelsen Sports Complex.
Liberal goes to WAC leader Great Bend Friday night at 7 p.m. on Talkradio 1270 and kscbnews.net.