A Fun Filled Fourth for Bee Jays
KSCB News - July 5, 2013 7:01 am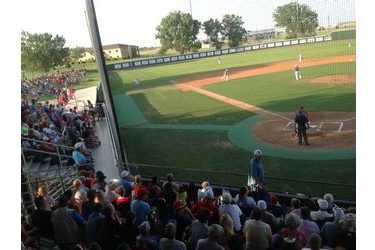 The Liberal Bee Jays haven't had many nights like this in the Jayhawk League this season. The Bee Jays built an 11-0 lead in route to an 11-6 victory over the Dodge City A's in front of packed crowd at Brent Gould Field. Chad Nack (2-2) pitched seven shutout innings striking out 12 and allowing just three hits.
The Bee Jays scored two in the first, one in the second, three in the fourth, and five in the fifth. Dodge City struggled all night with five errors qnd DC pitching walked seven hitters. Six of those walks would score.
Buffalo's Jon Mestas played his first game at Brent Gould Field since playing for Seward in 2011 and didn't disappoint. He was 3-5 with an RBI. Southern Arkansas's Brady Capshaw was 1-4 with three RBI's. Wichita State's Tanner Kirk 2-4 with an RBI. Southern Arkansas' Brady Capshaw was 1-4 with three RBI's.
The only blemish for the Bee Jay night was the fact that the bullpen allowed six runs in the eighth.
Liberal is 15-11 overall and 9-11 in the Jayhawk as Dodge City falls to 5-16 in the league.
Liberal hosts Hays Friday night at 7 at Brent Gould Field and on Talkradio 1270 and kscbnews.net. Brown's Furniture is the buyout sponsor.