A Fine Night for Fireworks at Cornelsen
Brock Kappelmann - October 3, 2020 7:36 am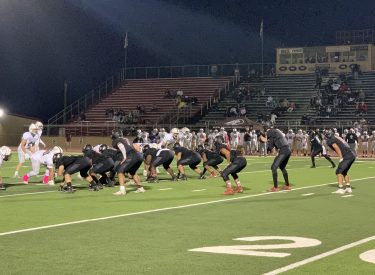 Right before fireworks filled the night air, the Liberal Redskins disintegrated several pesky streaks.  The Redskins stifled the Garden City Buffaloes 20-6 on homecoming Friday night at the Gary Cornelsen Sports Complex.  LHS ends their 12 game losing streak to Garden and beats the Buffs for the first time since a 39-20 win in 2007.  It's Liberal's first home WAC win since 2008 when they beat Dodge City 35-6.  The win snaps a 24 game home WAC losing streak.  Tom Schroeder was the head coach the last time those two things happened.  The Redskins break a current 11 game losing streak.  It's their first win since September 13 of 2019 when they won week two at Wichita North.
Malcolm Wiltshire intercepted a Garden City pass and made a short jaunt into the southwest endzone for the first score of the game which came at the 7:27 mark of the first quarter.  The Buffaloes were going in to score on a long pass play but fumbled near the goal line in the southeast endzone and Trystian Juarez recovered the fumble.  Zane Burns hit Caleb Wiese for a 30 yard score at the 6:23 mark of the second quarter to tie the game 6-6.  Alex Esparza hit the GC quarterback impeding the qb's motion an allowing Tony Rivero to pick off a pass at the Garden City 25.  Shay Kerr hit Jaylin Staten in stride for a 25 yard score into the northwest endzone.  Kerr hit Staten in the endzone for two and it was 14-6 Redskins with 1:32 to go in the first quarter.
The Buffaloes only amassed 59 second half yards.  GC faked a punt but were stopped short.  The Skins made it inside the 10 but had to turn it over on downs and were unable to score.  But the Buffs couldn't move the ball and had to punt from their north endzone.  A return by Wiltshire set the Skins up with great field position at the Garden City 10.  Kerr found Hunter Huskey over the middle for a nine yard score at the 4:58 mark.  This gave Liberal a 20-6 lead.  Juarez intercepted a Garden City pass on the ensuing possession.  In the closing minutes, Rivero recovered a Garden City fumble as they were inside the five.
Liberal forced five turnovers and did not turn it over.  LHS had 207 yards of offense including 108 rushing yards from Easton Zapien and held Garden to 200 yards of offense and only 25 net rushing yards.  Alex Esparza was the Epic Touch Player of the Game.
Liberal is 1-4 and 1-2 in the WAC and Garden City is 1-4 and 1-2 in the WAC.  Liberal plays at Great Bend Friday at 7 with Redskin Pre-game at 6 on 1270 and kscbnews.net.