A Fest for Billy's 10 Best
KSCB News - November 16, 2012 6:39 am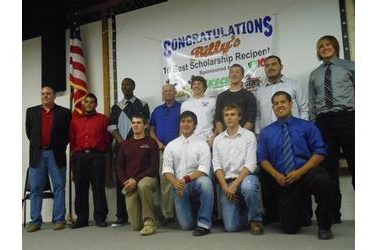 Area high school football standouts gathered at the Mid America Air Museum last night for the Billy's 10 Best Banquet. Southwestern Heights Ben Johnsrud, Satanta's Matt Leggett, Turpin's Jake Jimenez, Tyrone's Cole Wall, Meade's Chris Hardaway, Hugoton's Alfredo Licon, Beaver's Kalen Gabel, Moscow's Lane Miller, Sublette's Avigael Gonzalez, Hooker's Agustin Barrios, and Liberal's J.J. Lewis attended with their parents and coaches. Booker resident and former West Texas State wide receiver Daryl Wynn was the speaker. He shared many of his football stories playing for legendary coach Joe Kerbel. Wynn told and related the Biblical story of David and Goliath.
"My challenge to you is have big dreams," Wynn told the crowd. "Always dream big. And don't let anybody ever tell you that you can't do things. If you find somebody who's telling you that you can't do it or is bringing you down, you remember this story and you turn away from them and you find somebody who believes in you and somebody who cares for you and loves you because you can do it man. You can do it."
Each athlete receives a 350 dollar scholarship to a school of their choice thanks to Billy's and 102.7, The Legend. Meade's Chris Hardaway was the overall winner and receives an additional 350 dollars to the school of his choice next year.