A Dirty Dozen Dooms Seward at Barton
Brock Kappelmann - April 18, 2022 6:45 am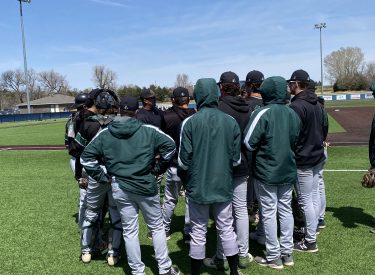 It took 12 innings but the result was too familiar.  The Seward baseball team absorbed two more losses Saturday at Barton 6-2 in game one and 4-3 in 12 innings in game two.  Seward is 12-30 on the season and loses the Barton series 3-1.
In game one, the Cougars scored one in the first and three in the third for a 4-0 lead.  The Saints plated a run in the third when Tristan Curless rolled a single through the right side to score Jaxson Gregg.  Barton scored two in the bottom of the fourth to lead 6-1.  Jacob Master ripped a double to left center to score Gregg in the fifth.  Barton out-hit SCCC 10-8.  Seward had two errors and Barton had one.
In game two, Barton scored in the first.  Seward scored in the fourth when Jacob Masters singled and later scored on Brody Boisvert's sac fly.  The Cougars plated runs in the fifth and the sixth to lead 3-1.  The Saints rallied in the ninth.  Luke Williams singled and Gannon Hardin doubled.  Brody Boisvert came through with a two RBI single up the middle to tie the game.  Seward did not score again and left six men on base from the 9th-12th innings.  The Seward defense kept the game going with Barton lining to SCCC second baseman Reid Thomas for a double play to end the 10th and a ground ball to SCCC 3rd baseman Luke Williams turning into a 5-3 double play to end the 11th.  Barton scored in the bottom of the 12th after a single, error, and another single.
Seward is 12-30 overall and 5-15 in the Jayhawk West.  Barton is 31-11 and 18-6 in the KJCCC West.  Seward plays at Cloud Thursday with Saints Dugout Show at 12:45 on 1270, 92.3, and the KSCB and The Legend App.