A Day Out for Liberal Police
KSCB News - July 13, 2012 10:10 am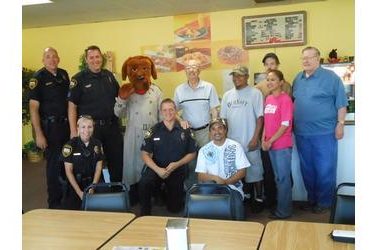 Before the Liberal Police Department provides a national night out in August, Friday was a day out at Daylight Donuts. The business on 1027 North Kansas is hosting a fund raiser for Liberal's National Night Out on Friday. The Sportsguys provided a live broadcast from Daylight Donuts Friday morning. National Night Out is August 7 with Liberal's event at Blue Bonnet Park.
The event was a huge success Friday and the donuts were all gone by 10:15. If you are still interested in helping the National Nigh Out, contact the Liberal Police Department at 626-0141.
This will be the third year in Liberal for the National Night Out event. The first year Liberal police estimated the event would draw a crowd of about 500 people but about two thousand people showed up. Last year even more people showed up for the event. So the Liberal police were at Daylight Donuts Friday raising money for this year's event. A portion of purchases at Daylight Donuts were donated to Liberal's National Night Out and there was also a water jug with donations.
Affordable Securities Systems will provide everyone at the National Night Out August 7 with a free home security screening and will give away an installation of up to one thousand dollars for a home or business. There will be games, jumpers for the kids, and a car show. National Beef, Seaboard Foods, and Epic PCS will provide and cook food.
National Night Out is intended to heighten crime and drug prevention awareness, generate support for and participation in anticrime programs, strengthen neighborhood spirit and police community partnerships, and send a message to criminals letting them know that neighborhoods are organized and fighting back.