A Cloudy Clincher for Saints
KSCB News - February 23, 2014 12:03 am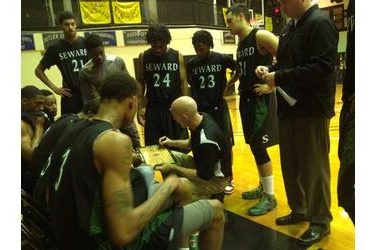 The mood was less than celebratory amongst Seward's players and coaches Saturday night. Despite clinching an unprecedented fourth consecutive outright Jayhawk West title, Seward left Cloud feeling blue. The Thunderbitds made a free c throw with a second left to sink the Saints 69-68 in Concordia.
The Saints shot only 38 percent and 58 percent at the free throw line. Seward led 33-31 at halftime after Tyreke Sharp's 40 footer at the buzzer. The T-Birds led 40-33, 52-47, and 58-52 in the second half. The Saints took the lead 64-62 with 3:53 to play and led 67-66 with 2:50 to go. It was tied at 68 with 1:30 to go. Seward missed three shots in close in the closing seconds which would have given them the lead and likely the road win. Instead they missed and Cloud's Lorenzo Dillard was fouled with 1.4 seconds left. He made one of two at the line.
The Saints are 20-9 and are 10-3 the Jayhawk West. Cloud is 15-14 and 7-6. Barton beat Hutchinson 87-82 meaning the Saints clinch the west.
Seward hosts Pratt Wednesday at 8 on 107.5 and kscbnews.net.