A Closer Call in Season Ending Loss
KSCB News - March 6, 2013 6:45 am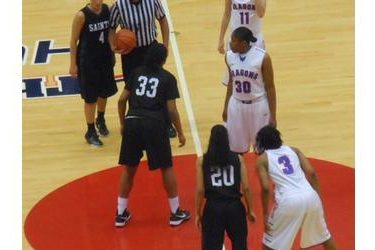 After losing the first two games 64-36 and 90-62, the Lady Saints gave Hutchinson a better game Tuesday night in the Hutchinson Sports Arena. But the result was still a double digit Lady Dragon victory 67-52 over Seward and a loss which ended Seward's season. Injured Lady Saints Anete Kirsteine and Payton Fleming watched from their all too familiar spots on the end of the SC bench due to season ending injuries as the season faded away. A season which began with a nod from the Jayhawk West coaches to win the Jayhawk West, ended with a 20-11 season and a fifth place finish.
Seward was within two of Hutch at 27-25 in the first half. Hutch finished the half on a 10-2 run and led 37-27 at halftime. Seward was within single digits most of the first portion of the second half before the Lady Dragons pulled away.
Hutch out rebounded the Lady Saints 49-32 and Seward committed 22 turnovers. Madison McLain scored 19 points and grabbed nine rebounds. Shanise Brooks added 10 points and eight rebounds.
Hutchinson has won 10 of their past 11 against Seward and is 31-1.
Sophomores Ricquia Jones, Marta Oledzka, and Kelsey Blair played their finals games in Seward green.
Tue. Mar. 5 Region VI D-I Women's Games
#3 Hutchinson (30-1) def (20-10) Seward Co 67-52
Butler (25-6) def (16-14) Independence 76-62
#12 Garden City(28-3)def(14-17) Coffeyville 68-45
Cowley (27-4) def (21-10) Cloud County 68-53
Fri. Mar. 8 – Region VI Women's Semifinals
at Hartman Arena – Park City , KS
1:30 #3 Hutchinson (31-1) vs (26-6) Butler
3:30 #12 Garden City (29-3) vs (28-4) Cowley