A Calamity at Colby for SCCC
Brock Kappelmann - January 24, 2022 6:47 am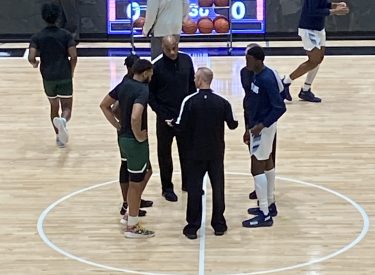 Seward has absorbed several blowout losses this season on the road.  New Mexico beat them 110-85, Seward lost 92-66 at Barton and 63-35 at Dodge City.  But Sunday's game at Colby proved to be the most lobsided loss yet as the #23 Trojans thumped the Saints 84-54 at the new Colby Events Center.
Colby, losers of two straight, jumped out to leads of 19-6 34-14, 37-16, and 40-18.  It was 41-21 Trojans at halftime.  Colby led by as many as 33 on the way to their sixth straight win over Seward in Colby.
Colby blazed the nets for 53 percent shooting.  The Trojans connected on 11-24 three pointers for 46 percent shooting.  Seward shot 33 percent and were 4-20 from three.  Seward was out rebounded 44-26.  Taye Donald led Seward with 20 points and four steals in the loss.
Seward is 8-12 overall and 5-9 in the Jayhawk.  SCCC is 1-5 in the KJCCC since returning from the break.  Colby is 12-6 overall and 7-5 in the Jayhawk.  Seward hosts Dodge City Wednesday at 8 on 107.5 and the KSCB and The Legend App.  Equity Bank is the game sponsor.