A Calamity for Saints at Cloud
Brock Kappelmann - November 18, 2023 9:10 pm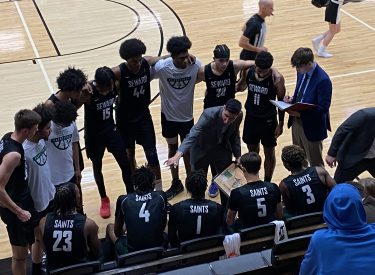 The Cloud Thunderbirds led from start to finish in an 82-57 rout over the visiting Seward County Saints in the KJCCC opener Saturday afternoon and evening at Bryant Gymnasium in Concordia.  Cloud led by as many as 37 in the win.
Cloud jumped to leads of 18-5 and 30-15 before taking a 34-20 lead into the locker room.  Cloud led 47-25, 49-26, 52-27, and 66-33.
The Thunderbirds shot 53 percent from the field and made 6-15 three pointers.  Cloud was 22-34 from the foul line.  Seward shot 33 percent and made 7-23 three pointers.  Seward was a dreadful 12-32 from the free throw line.  Cloud out-rebounded SCCC 47-35.  The T-Birds led points in the paint 40-18.
Blessin Kimble was the Epic Touch Player of the game with his third straight triple double with 14 points and 13 rebounds.
Cloud is 6-0 and 1-0 in the Jayhawk.  Seward is 2-3 and 0-1 in the KJCCC.  Seward hosts Cowley Tuesday night at 8pm on B107.5 .  Pizza Hut is the buyout sponsor.