A Big Win on Bob's Night
KSCB News - June 30, 2012 9:43 pm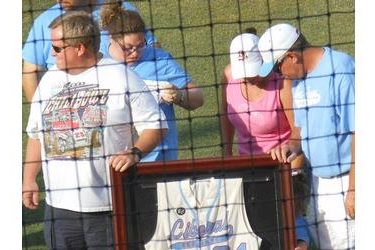 On Bob Carlile Night Saturday night at Brent Gould Field, the BJ's defeated the Hasyville Heat 4-1. Carlile's family and members of the BJ Board of Directors gathered on the field before the game for a short ceremony. Four shadow boxes with the number 34 were handed out to the Carlile and to a local establishment of choice. The 34 represents Carlile keeping 34 BJ players throughout the years. Carlile was the active BJ GM when he passed away January 6.
Oklahoma City's Cody Crabaugh (2-1) pitched six solid innings for the win. He struck out four and didn't issue a walk in his best outing of the year. Tennessee Martin's Trevor Lundgrin pitched two scoreless innings with three strikeouts and Coffeyville's John Branump pitcehd a 1-2-3 ninth for his third save. Liberal's staff only walked one.
Liberal supplied just enough offense. Wichita State's Tyler Baker doubled home Jake Barrios. The BJ's scored again in the third when UTA's Travis Sibley doubled to lead off the inning and scored on OCU's Johnathan Sigado hitting a sacrifice fly. Liberal scored two in the fourth when Texas Pan American's Jacob Huckabay doubled home two runs. Haysville scored their run in the sixth.
Liberal is 17-7 overall and 11-7 in the Jayhawk as the Heat fall to 7-14 in the Jayhawk. The same two teams meet Sunday night at Brent Gould Field. The game will air on Talkradio 1270 and kscbnews.net. Koochel's Automotive is the buyout sponsor.