9/11 Flag To Come Back To Greensburg
KSCB News - May 16, 2011 8:15 am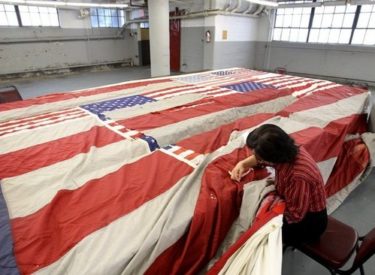 The National 9/11 Flag will return to Greensburg, Kan., Saturday, May
28, for public viewing and an official flag-stitching ceremony. The ceremony will be held at 2
p.m. in the Kiowa County High School gym.
The flag will be available for viewing from 10 a.m. to 3 p.m. Several American veterans, as well
as the Patriot Guard, will be in attendance. During the ceremony, veterans Layton Warn, Pearl
Harbor; W.R. Brenner, Bataan Death March; Lyle McVay, Utah Beach; and Gary Bartlett,
Vietnam, will be among those who will place stitches in the flag.
"The National 9/11 Flag is the ultimate modern-day symbol of the resilience and compassion of
the American people," said Jeff Parness, founder and chairman of the New York Says Thank
You Foundation.
The National 9-11 Flag was destroyed in the aftermath of the World Trade Center attacks in New
York City. To give back to the communities that helped NYC after 9/11, The New York Says
Thank You Foundation has traveled to several natural disaster sites over the past 10 years to
provide relief to the people of that area.
In October 2008, the foundation visited Greensburg, bringing along the tattered remains of the
flag rescued from Ground Zero. It was here on Sept. 11, 2008, that the National 9/11 Flag was
stitched back together by women in the Greensburg Carriage House Assisted Living Center.
The flag has toured the country since its restoration in Greensburg. It is a source of healing for
victims of tragedies and natural disasters, and has been dubbed the "Star Spangled Banner" of its
generation.
"After seeing the flag, you'll feel so proud when you leave," said Matt Deighton, volunteer
coordinator, Greensburg. "You don't know how it touches people."
The flag also will be available for viewing from noon to 4 p.m. Friday, May 27. At this time,
repairs will be made to the flag. Members of the public can organize group photos with the flag
prior to the event by contacting Deighton, (620) 388-1860.
Students from the Elliott School of Communication at Wichita State University are promoting
the return of the National 9/11 Flag. Students are combining their expertise in design and writing
to gain valuable work experience, while generating publicity for the flag and Greensburg.
For more information on the New York Says Thank You Foundation or the National 9/11 Flag,
visit http://newyorksaysthankyou.org/ or http://national911flag.org/. You can also find the flag
on Facebook at http://on.fb.me/dP7Y41.