9/11 Flag Returning To Greensburg
KSCB News - May 19, 2011 11:43 am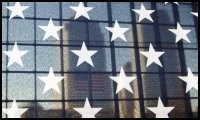 One of the largest flags to fly at New York City's Ground Zero after the 9/11 terrorist attacks returns to Greensburg for viewing Memorial Day Weekend.
The so-called National Sept. 11 Flag has traveled as part of the
New York Says Thank You Foundation to several natural disaster
sites over the past decade.
A tornado in 2007 destroyed about 95 percent of Greensburg. The
next year, the foundation visited the city and brought along the
tattered remains of the flag rescued from Ground Zero.
The flag will be available for viewing from noon to 4 p.m. Friday, May 27. At this time, repairs will be made to the flag.
The flag will be available for viewing May 28th from 10 a.m.- 3 p.m. American veterans, as well as the Patriot Guard, will be in attendance. During the ceremony, veterans Layton Warn, Pearl Harbor; W.R. Brenner, Bataan Death March; Lyle McVay, Utah Beach; and Gary Bartlett, Vietnam, will be among those to place stitches in the flag.
The Associated Press contributed to this report.