#9 Seward Rolls Past #20 Colby
Brock Kappelmann - September 25, 2017 6:32 am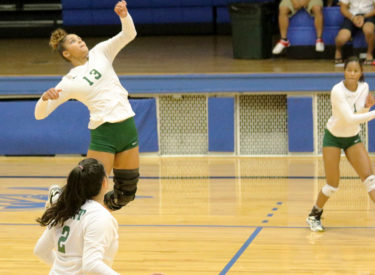 COLBY, Kan. – The No. 9 Lady Saints remain perfect in Jayhawk West place following a sweep of No. 20 Colby, 25-15, 25-15, 25-14. The Sweep marks the fifth straight sweep of a conference opponent.
The Lady Saints (17-1, 6-0) quickly quieted the rowdy Colby crowd in the first set. After trading points through the first six points, the Lady Saints went on an 8-3 run, taking the lead 11-6. Mariana Nascimento was a key contributor in the run, accounting for four straight Seward points, three from kills and one from a block. The Lady Saints continued to extend their lead throughout the set, eventually winning by 10 points following another Nascimento kill.
The Lady Trojans (16-3, 6-1) kept set two interesting for as long as they could. The two teams battled through the first eight points. Errors by both teams prevented either team from gaining an advantage. However, a kill by Viviane Viana sparked a 6-2 run, capped by a Giovanna Tapigliani kill. The run gave the Lady Saints the momentum they needed to finish the rest of the set, winning by the same score as set one, 25-15.
The final set was a statement, as they jumped out to an early 6-0 lead, with points coming from Luz Sierra, Tapigliani and Viana. After the Lady Trojans cut the lead to three, Tapigliani kicked started another 6-0 run for the Lady Saints. The remainder of the set was controlled solely by Seward County. Nascimento finished the final set with five more kills, including the match clincher. The Lady Saints won set three 25-14 to complete the sweep.
Seward finished the day with 39 kills and 50 digs as the Viana (11/11) and Tapigliani (10/10) both finished with double-doubles. Nascimento was extremely efficient on the day, hitting .500. Per usual, Giovanna Kuntze paced the match with 31 assists.
Every starter for the Lady Saints earned at least one block, with Sierra leading the team with five. The Lady Saints finished with ten total blocks as a team.
The Lady Saints next match will be Wednesday (Sep. 27) at 6:30 p.m. when they travel to Hutchinson to take on the Blue Dragons.
Ian Applegate