8 "Wonders Of Kansas People" Announced
KSCB News - October 29, 2010 12:00 am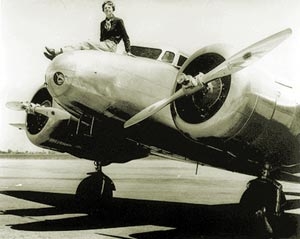 Amelia Earhart is one of those being named among the eight Wonders of Kansas People.
The Kansas Sampler Foundation announced the winners of the contest Thursday.
In addition to Earhart, an Atchison-native who became the first woman to fly solo across the Atlantic Ocean, others named in the contest were the Buffalo Soldiers, George Washington Carver, an inventor who lived in Beeler, James Naismith, who invented basketball and lived in Lawrence, Chanute natives and filmmakers Martin and Osa Johnson, and William Allen White, a Pulitzer Prize-winning newspaper editor from Emporia.
Carry Nation, a crusader for Prohibition, and Emil Kapaun, a priest under consideration for sainthood, were also on the list.