Cold Shooting and Rebounding Woes Sink Seward at Home with Hutch
Brock Kappelmann - February 23, 2023 6:38 am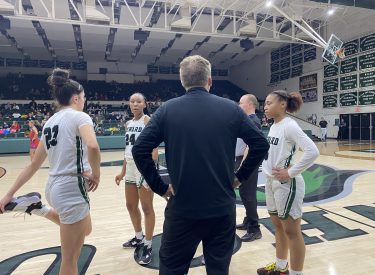 The Seward Lady Saints lose their third straight game for the second time this season.  Wednesday night on Sophomore Recognition Night, Seward lost to the visiting Hutchinson Lady Dragons 69-54 in the Green House.  Hutch out rebounded Seward 48-27 and the Lady Saints shot 33 percent.
Seward led by five in the first quarter and led 12-11 after one.  Hutchinson dominated the second quarter 22-9 and led in the second quarter by scores of 23-12 and 27-15 before taking a 33-21 lead at halftime.  The Lady Dragons out scored Seward 17-9 in the third quarter to lead  50-30.  HCC led SCCC 54-30 early in the fourth quarter.  Seward out scored Hutchinson 24-19 in the fourth.
Seward shot 33 percent from the field and 7-21 from three.  SCCC was 11-15 at the free throw line.  Hutch shot 41 percent and 4-14 from three while going 17-26 from the foul line.  Hutch out rebounded Seward by 21 but won despite 19 turnovers.  Seward committed 13 turnovers.
Halima Salat was Epic Touch Player of the Game with 16 points and 4-9 shooting from three.  De'Shawnti Thomas had 13.  D'Arrah Allen scored 12.
Hutchinson is 22-7 overall and 16-7 in the Jayhawk. The Lady Dragons win at Seward for the third time in four years.
Seward is 14-15 overall and 12-11 in the Jayhawk.  Seward plays at Coffeyville Saturday at 2pm with Saints Shoot-around at 1:45 on 107.5.