Berry Pitches Bee Jays to Game One Win at NBC
Brock Kappelmann - July 30, 2022 6:40 am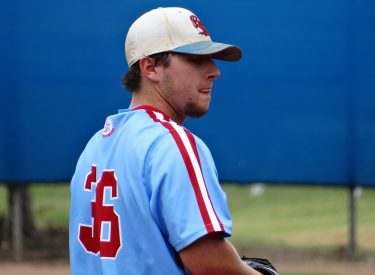 Bee Jay left hander Jackson Berry improved to 5-1 on the season going seven strong innings pitching the Liberal Bee Jays to a 9-1 run rule win over the TBT Ballers in their first game at the 2022 NBC World Series at Hobart-Detter Field in Hutchinson.  Berry struck out six and didn't walk anyone as the Bee Jay overcame a quiet day offensively.
Liberal placed runners on first and second with no outs in the first but did not score.   The Bee Jays scored two in the second.  Hudson Polk and Ethan Frey walked before Ryan Leary singled to load the bases with one out.  Conner Westenburg slapped a two RBI single past the third baseman for the 2-0 lead.  The Dallas bases TBT Ballers scored a run in the fourth.  That score stood until the seventh when the BJ's finally broke the game open.  Conner Westenburg led off the inning with a walk and stole second.  Keaton Grady had the biggest hit of the game with a double down the left field line to make it 3-1.  Daylan Pena ripped a double off the wall in left for the 4-1 lead.  Hudson Polk slapped a single through the right side for a 5-1 lead.  Ryan Leary singled home two for the 7-1 lead.  The Bee Jays scored two in the eighth to end it.  Gavin Brzozowski walked and Keaton Grady reached on an error.  Daylan Pena was hit by a pitch.  Zach Yorke hit a sac fly.  Keaton Grady ended the game scoring on a wild pitch.
Liberal out hit the Ballers 12-4.  TBT had the game's only error.  The game was played under cloudy skies with temperatures in the mid 70's.
In addition to Berry's outing, Nick Moore pitched a scoreless inning.  Ryan Leary was 3-4 with two RBI's.  Zach Yorke was 2-4 with a double and an RBI.  Keaton Grady was 2-5 with a double and an RBI.
Liberal is 32-5 and TBT is 18-10.  The opening win was a welcome sight for the Bee Jays who had dropped four of the past five opening games at the NBC.  Cheney beat Waco 10-0 so the Bee Jays play Cheney Sunday night at 6pm  in Hutchinson  on 1270, 92.3, and The KSCB and The Legend App.