Redskin Bowlers Take 10 WAC Points Over Dodge City
Brock Kappelmann - January 19, 2022 6:26 am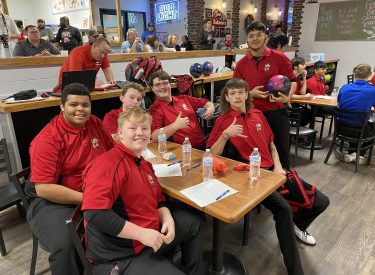 LHS bowling hosted Dodge City Tuesday afternoon at Billy's Ayr Lanes.
Varsity Girls finished with a total 1992 pinfall. Caitlyn Carlile finished
with a team high single game of 160. Caitlyn finished 4th overall with a
454 series and Terah Head finished 5th with a 443 series.
JV Girls finished 1605 pinfall taking 10 WAC points. Lauren Cook had a team
high 181 game and also finishing 1st overall with a 435 series. Whitney
Maples finished 2nd overall 359 series.
Boys Varsity took 10 of the 11 possible WAC points today. With a total
pinfall of 3020. With a game 1 score of 929! Cooper Clumsky had team high
game of 260. Josh King, Cody Bremenkamp, and Cooper Clumsky all finished
with over a 600+ 3 game series. Individually Boys finished 1st: Cooper
Clumsky 651 series, 2nd: Cody Bremenkamp 626 series, 3rd: Josh King 605
series.
Boys JV took all 11 WAC points today. Carlos Campos had high game if 164.
Carlos Campos finished 1st overall with a 457 series. Mack Bradford
finished 2nd overall with a 429 series, Tyren Holmes finished 3rd overall
with a 383 series.
Our next meet is next Tuesday 1/25/22 at Great Bend. Next home meet is
2/3/22 vs GC and Holcomb. Thank you to everyone who came out to support the
Student-Athletes today!
Andrew Potter