Rice's Duck Steams it's Way to Victory
Joe Denoyer - September 12, 2021 2:09 pm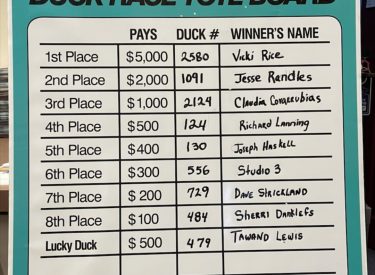 The Liberal Chamber of Commerce celebrated the 2021 Duck Festival in Light Park on Saturday. There was food, fun and festivities all day long culminating with the "Duck Race" at 2:00pm.
Activities throughout the day included the Seward County United Way Chili, Soup, Taco, and Salsa Cook Off, Ducky Downs, Trike Races, Fireman's Water Fight and the KSCB National Beef Cornhole Tournament.
Winners in the Duck Race, the top eight and the "Hard Luck Duck" were: Vicki Rice in 1st, winning $5000, Jesse Randles 2nd, $2000, Claudia Covarrubias 3rd and $1000, , Richard Lanning 4th,$500, Joseph Haskell ,5th $400, Studio 3, 6th, $300, Dave Strickland, 7th $200, and Sherri Danklefs in 8th for $100. The Lucky Duck picked belonged to Tawand Lewis and was good for $500.
In the Chili, Soup, Taco and Salsa Competition Sponsored By the Seward County United Way, Southwest Medical Center took 1st Place, WKCAC in 2nd, with Patrick Perry in Third.
On the Taco side, Efrain Chilangolandia took 1st, Aurora in 2nd and Athletico for 3rd.
In the Salsa Competition, Aurora was 1st, Norma in 2nd, and AthletiCo in 3rd.
Overall People's choice was Efrain Chilangolandia.
Winner in the Fireman's Water Barrel fight was Big Daddy Fox and Wes's son…aka Wes and Jared Fox.