Seward Volleyball Dominates KJCCC Awards
Brock Kappelmann - November 19, 2019 6:36 am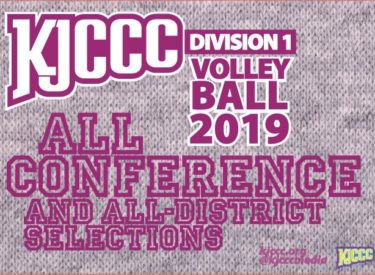 November 18, 2019 — Leading their team to an undefeated conference season and a No. 3 nationally ranked 28-2 season, Seward County Community College lands the top awards of the postseason recognition.
In his second season at the helm, Saints Head Coach Tony Trifonov earned the Coach of the Year award with freshman Yanlis Feliz claiming a pair of distinctions in being named both the Freshman and Most Valuable Player of the league.
Coach of the Year
Trifonov's leadership helped the Saints to their 8th regular season Jayhawk West title including back-to-back undefeated conference season and the program's sixth Region VI title.  Making their 8th national tournament appearance, the Saints will be the third seed in the 2019 NJCAA Division I Volleyball Championship tournament set to begin November 21 in Hutchinson, Kansas.
Freshman and Most Valuable Player of the Year
Feliz led the conference in two big offensive categories of 4.66 kills per set on a .463 attack percentage to additionally rank fourth and fifth respectively in all of NJCAA Division I Volleyball to register a nation's second best 5.3 points per set.  A seven-time conference player of the week, the freshman from the Dominican Republic piled up thirty-seven kills in the region's final four to advance the Saints to the national tournament.
Seward County led all selections with six, including four on the first team with second place finishers Colby and Barton each landing a pair on the ten-member top squad.
2019 KJCCC WEST DIVISION I VOLLEYBALL AWARDS
MOST VALUABLE PLAYER
Yanlis Feliz, Seward County, FR
FRESHMAN OF THE YEAR
Yanlis Feliz, Seward County, FR
ALL-KJCCC FIRST TEAM
Yanlis Feliz, Seward County
Djuly Schmorantz, Seward County
Rayanne de Oliveira, Barton
Kyndal Bacon, Colby
Laura De Pra, Seward County
Karina de Oliveira, Barton
Amalie Rupertova, Butler
Katelyn Elstun, Hutchinson
Mesalina Severino, Seward County
Milica Dukic, Colby
ALL-KJCCC SECOND TEAM
Alissa Bautista, Hutchinson
Macarena Ruiz, Colby
Agnieska Paskevic, Barton
Karleeann Ramos, Colby
Katarina Vojvodic, Garden City
Elaine Thibadeau, Colby
Hannia Rios, Independence
Claire Choloux, Colby
Olivia Hessman, Pratt
Ariana Archiniega, Seward County
COACH OF THE YEAR
Tony Trifonov, Seward County (2nd Season)
ALL-KJCCC HONORABLE MENTION (Listed alphabetically by school)
Barton – Migle Mazurkeviciute, Victoria O'Keefe, Mackenzie Pease; Butler – Jaryn Benning, Milayna Hollinger, Morgan Bryand; Dodge City – Ruby Osawey; Hutchinson – Eboni Sapien; Independence – Jonidsha Nieves; Seward County – Grecia Soriano
* Denotes Unanimous Selection