Kachel Named LHS Cross Country Coach
Brock Kappelmann - July 1, 2019 4:44 pm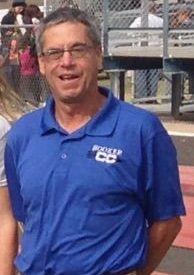 Liberal High School is excited to announce the hiring of Stanley Kachel as its next Head Cross Country Coach.  Kachel and his wife Shari have three sons (Brendan, Jarret, Keaton).  He is currently teaching Industrial Arts at Seymour Rogers Middle School where he also serves as the Head Track Coach.  
Kachel earned his Bachelor of Science – Industrial Arts Degree from Panhandle State University and his Masters of Science – Educational Administration from Oklahoma State University.  He has been in education for 37 years teaching and coaching with stops at Jefferson Middle School, Yarbrough Public Schools, and Hooker Public Schools.  
Kachel has over 20 years of Head Cross Country coaching experience to go along with his 30+ yearsserving as a head track coach.  He has been honored as Oklahoma Coaches Association Regional Coach of the Year for Cross Country (2004, 2010, 2012), Oklahoma Coaches Association Cross Country Coach of the Year (2004), and Oklahoma Track Coaches Association Cross Country Coach of the Year (2010).  Kachel has lead teams to nine state championship; Boys Track (1994, 2015, 2016) and Cross Country (2007, 2010, 2013, 2014, 2015, 2017).  He has coached ten state runner up teams; Boys Track (1992), Boys Basketball (1995), Boys Cross Country (2004, 2005, 2008, 2009, 2016).  All of these go along with 20+ regional championships.  
"I could not be more excited about the hiring of Coach Kachel as the next Cross Country Coach at Liberal High School," Liberal High School Activities Director Nathan Smith said.  "Coach's passion for the sport of cross country are apparent to anyone he talks to, and his commitment to provide student athletes with opportunities to be successful are easily seen by his accomplishments."
"I would like to thank Coach Smith and Mrs. Kappelmann for the opportunity to coach the cross country teams at LHS," Kachel said.  He continued, "It is a huge honor to coach at a high school with such a rich tradition of athletic excellence.  It will be my goal to continue building with the cross country teams."
Nathan Smith