Lady Saints Torch Neosho in Green House
Brock Kappelmann - January 22, 2019 6:26 am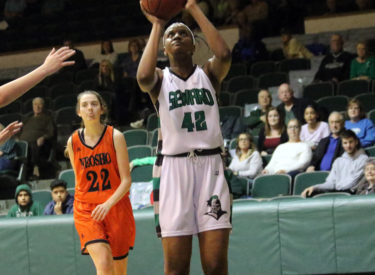 From: Ian M. Applegate
Sent: Monday, January 21, 2019 10:31 PM
Subject: Lady Saints Torch Panthers in Greenhouse
LIBERAL, Kan. – A complete team effort pushed the No. 11 Seward County women's basketball team to victory, as six Lady Saints scored in double-figures en route to a 99-83 win over the Neosho County Panthers in the Greenhouse Monday night.
Facing the top scoring team in the Jayhawk Conference, Seward County had to be on their "A" game offensively, and they did just that. The Lady Saints put up 24 points in the first quarter, putting up two more than the Panthers after Carla Covane connected on a second chance put back to give Seward the lead after one.
The put-back sparked a 13-0 run for the Lady Saints, extending into the second quarter as Seward held the Panthers scoreless for the next four minutes. The Seward lead gradually reached 16 points before halftime with a Karolina Szydlowska jumper to put the Lady Saints up 56-40.
Seward continued to pour it on to start the second half, going up twenty points after Aquila Mucubaquire found Lexi Hernandez in the corner for the triple to make it 64-42. After the Panthers went on a short run to cut the lead to 15, the Lady Saints got back into the groove, pushing the lead back to twenty points, leading 82-61 after the third quarter.
The final quarter of play was the lone period that the Panthers outscored the Lady Saints, but it was far too late. After going up 94-70 with just over three minutes to play, Seward called off the hounds, allowing the Panthers to end on a 13-5 run, but Seward still won easily 99-83.
Seward's offense got back into a groove after struggling for periods of time the past few games. The Lady Saints shot 48.8 percent (39-for-80) from the floor. While Lexi Hernandez shot 41.7 percent (5-for-12) from deep, the rest of Seward squad went just 2-for-21 (9.5%). The Panthers were held to 34.7 percent (33-for-95) shooting and just 26.3 percent (10-for-38) from behind the arc.
Six Lady Saints reaching double-figures with Hernandez leading the way dropping 25 points. Silvia Veloso (16 pts), Aquila Mucubaquire (14 pts), Karolina Szydlowska (13 pts), Vonda Cuamba (11 pts) and Carla Covane (10 pts) each joined Hernandez in double-figures. Kalen Green was two points shy of becoming the seventh Lady Saint.
Seward will start a stretch that includes three of the next four games on the road, beginning Wednesday (Jan. 23) at 6:00 p.m. in Colby. The game can be heard on 107.5 FM with Brock Kappelmann on the call.