5th Annual Antique Tractor Show and Food Showdown this Weekend
Joe Denoyer - August 26, 2022 7:58 am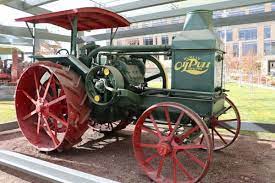 The  5th Annual Keating Tractor and Equipment Antique Tractor Show and an Old Fashioned Food Showdown to benefit Southwest Miracles  will be held on Saturday, August 27th from 9-3. The day will begin with Veterans receiving their Quilts of Valor from the Needle and Friends Quilt Guild.
Antique tractors, cars, and implements will be on display with activities for the kids that include bounce houses, barrel train rides, face painting , archery tag and a dunk tank throughout the day. There will be several merchandise and food vendors on sight as well. KSCB and the Legend will host a Cornhole Tournament paying $1,000 to the winner.
Several contestants will be competing in the Food Showdown while those in attendance will be able to purchase a meal provided by past winner Larry Jeffus, the onion ring guy with the proceeds going to the Southwest Miracles.  There will also be other food vendors.
For more information, contact Keating Tractor and Equipment at 620-624-1668.