O'Laughlin Takes Reigns of Hugoton Football Program
Brock Kappelmann - August 17, 2018 1:22 pm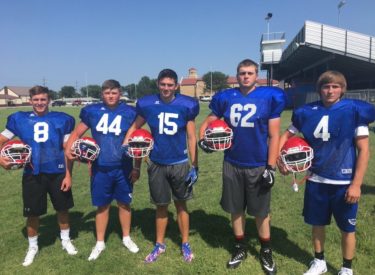 One of Hugoton's native sons is back to coach the Hugoton football team.  Nick O'Laughlin, a 2006 HHS graduate will take the reigns of the program in 2018.  It is his first head football coaching job after he was head track coach in St. Francis and assisted Rodney Yates in football.  O'Laughlin is trying to bring a hard working and dedicated culture to the program.   O'Laughlin coach track at Eastern New Mexico after college at Bethany.  He coached track in Hugoton briefly before going to St. Francis.
The Eagles are 3A in football this season and have 52 out for football with seven starters back on the defense and six back on offense.  They return five of their starting linemen.  They were 3-6 last year and 5-4 two years ago.  This year they will play in a six team district with Holcomb, Kingman, Larned, Nickerson, and Pratt.  The top four teams from the district advance to a week nine playoff game.
Hugoton's most dedicated athletes to the football program this summer have been Sr. WR/LB Jagger Hertel, Sr. OT/DT Jeff Persinger, Sr. WR/LB Zayden Littell, Sr. FB/DE Nick Gold, Sr. RB/LB Dawson Kerbow, and Sr. WR/DB Carlos Tinoco.
Hugoton was featured during the Sportsguys Friday morning.
Schedule
August 31- Scott City
September 7- Colby
September 14- at Ulysses
September 21- at Kingman
September 28- Nickerson
October 5- at Pratt
October 12- Larned
October 19- at Holcomb