Monday and Saturday's Middle School Results
Brock Kappelmann - September 18, 2017 6:26 am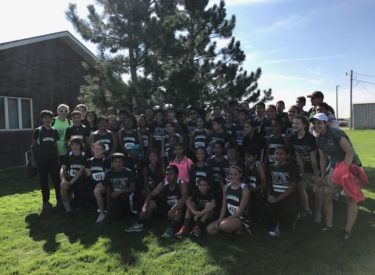 Lady Warriors traveled to Dodge City Comanche middle school. Lady Warriors
played their first match against Dodge City Middle winning matches 25-2
and 25-5. Jenna Ormiston served 17 times with 5 aces. Rachelle Terrazas
served 13 times 6 aces. Lexi Hensley recorded 5 kills. In the 2nd set,
Ileyah Ross served 6 times with 2 aces.
Second game Lady Warriors played Dodge Comanche with a win of 25-7, 25-12.
Lexi Hensley recorded 15 serves with 7 aces and 7 kills. Jenna Ormiston
served 8 times with 5 aces.
With both games I appreciate that we don't play to the level of our
opponents and continue to work on skills to getting better every game.
Lady Warriors improve their record to 15-0 and travel to Great Bend on
Monday.
7B team played won their games against Dodge Middle 25-10, 25-13. Standout
player was Lesly Carrillo for serves and get the ball up and over.
Warriors won against Comanche 25-11, 25-14. Stand out player was Aaliyah
Luna completed 13 serves in a row. Record improves to 12-2.
Saturday
Today was another successful day for the XC runners of Eisenhower.
All four teams took first place for the second time this season. Our coaching staff is very proud of the student athletes performance but even more proud of their effort!
Medalist for today's meet were: 7th grade girls Hallie West 5th, Ava Maxwell 11th, Ashlynd Winchell 15th. 7th grade boys Josiah Perez 6th, Anthony Castijella 7th, Gideon Wright 10th, and Elian Laguna 12th (first ever medal!) 8th grade girls won by just one point and had just one medalist Helena Combs 3rd. 8th grade boys Iram Camacho 4th, Coby Tran 12th, and Logan Miller 14th.
Next up, some of the team will head to Ulysses on Tuesday.
Brandi Fowler
Volleyball
It proved to be a long day for the 7A Lady Warriors at Ulysses playing in
pool play against Hugoton, Guymon, Ulysses, and Colby. Breaking out of
pool A as #1 seed and played against Sacred Heart for the championship
game. Lady Warriors were victorious taking 2 sets to win the championship
and defended their title at that tournament from last year since 7A took
the hardware at the same tournamnet. Lady Warriors improve their record to
13-0. All members on 7A contributed to the wins today with Alondra Garcia
serving 11 in a row against Guymon and Ileyah Ross stepping up big in the
middle position recording a few kills and a kill on game point against
Sacred Heart.
7B finished the day 3-1 with overall record of 10-2. Cinithia Rivera served
a whole game to 15 points and an ace point on the final serve. Sasha Ricks
played the net hard with a few spikes. Nubia Rodrigieuz ended up serving
7 in a row.
Lady Warriors head to Dodge on Monday.
8th grade Warriors take 2nd at Ulysses and are 9-3.