5 More Notable Kansans Announced By Go. Brownback
KSCB News - August 31, 2011 12:33 pm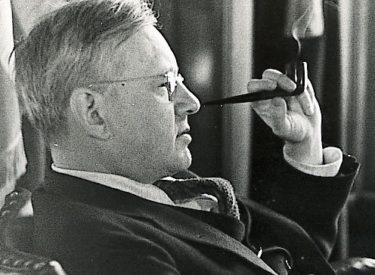 The notable Kansans honored this morning were Walter Chrysler, John Stuart Curry, Alfred Landon, Gordon Parks, and George Sternberg.
As part of the state's commemoration of the Kansas sesquicentennial during 2011, Governor Sam Brownback announced today the five more of the 25 Notable Kansans at an event at Fort Scott National Historic Site. Two more such events will be held Wichita and Hutchinson in the coming weeks.
Walter Chrysler was born in Wamego and grew up in Ellis. He always liked to work on engines and bought his first car in 1908. Chrysler worked for the Buick car company, and then bought his own car company in 1925. The Chrysler Corporation went on to become the second largest car company in the nation. At today's event Chrysler's biography was read by Robert Tersinar, general manager of Shepherd Team Auto of Fort Scott, one of the oldest Chrysler Dealerships in Kansas.
John Steuart Curry was born in Dunavant and was a leader in the Realistic Regionalism art movement. He was commissioned to paint murals in the Kansas State Capitol, but after working amidst conflict, controversy, and criticism, he left the murals unfinished and unsigned. Curry's Tragic Prelude mural depicting abolitionist John Brown is among the nation's most famous public art. At today's event Curry's biography was read by Don Lambert, an arts advocate and John Steuart Curry reenactor.
Alfred Landon was a soldier during World War I. He was a banker and oil producer in Independence, and became the 26th governor of the state of Kansas in 1933. He was the Republican nominee for president in 1936. The popular Landon Lecture Series at Kansas State University is named for him. At today's event Landon's biography was read by Ann Emerson, a Landon family friend who served as Bourbon County chair for Senator Nancy Landon Kassebaum's Senate campaign.
Gordon Parks was born in Fort Scott. While living in Chicago, he pursued an interest in photography. He became a nationally recognized photographer, author, poet, composer, and filmmaker. Parks also wrote The Learning Tree , which was based on his childhood in Kansas. He later produced, directed, and wrote the musical score for this autobiographical story when it was made into a movie. At today's event Parks' biography was read by Jill Warford, executive director of the Gordon Parks Center for Culture and Diversity.
George Sternberg was born in Lawrence and followed his father's career in paleontology. He began directing fossil expeditions in the early 1900s. He was an internationally recognized paleontologist and curator of the museum at Fort Hays State University. One of his most notable finds was the "fish-within-a-fish" fossil, which he found in Gove County in 1952. The Sternberg Museum of Natural History in Hays is named for him. At today's event Sternberg's biography was read by Dr. Larry Martin, curator of vertebrate paleontology at the University of Kansas.
The public is invited to the remaining Notable Kansan events, where the rest of the names will be announced, five at each event: 3:30 p.m. Wednesday, September 7, at Kansas Aviation Museum, Wichita; and 9:30 a.m. Thursday, September 15, at the Kansas State Fair, Hutchinson. Each event will feature comments by Governor Brownback, introduction of special guests, singing of the state song, and a brief reception. Events commemorating the top 12 events in Kansas history will be held later in the fall.