#3 Seward Beats Garden City on Sophomore Night
Brock Kappelmann - October 22, 2019 6:37 am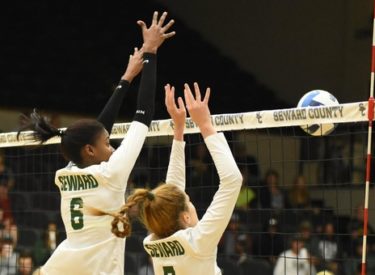 LIBERAL, Kan. – The third-ranked Seward County Community College volleyball team knocked off Garden City Community College in straight sets, 25-16, 25-14, and 25-6 on Monday at the Greenhouse on Sophomore Night in its regular-season home finale.
The Lady Saints, who were 8-0 at home this season, extended their Jayhawk Conference winning streak to 53 games and stretched their overall winning streak to 15 games. Seward improved to 23-2 overall and remained in first place and undefeated in conference play at 14-0.
Seward struggled in the first two sets with uncharacteristic mistakes and let Garden City hang around.
The Lady Saints stormed out to a 6-0 lead in the first set before letting the Broncbusters back in the game. Seward only held a one point lead at 10-9 and 17-16 before it ran off eight straight points to end the game.
In the second set, the Lady Saints were sloppy and trailed 10-7 before getting on track and eventually overmatching the Broncbusters. Seward turned the three-point deficit into an 11-point victory as outscored Garden City 18-4 the rest of the game.
In the third and final set, the Lady Saints finally gave the fans what they were accustomed to seeing. Seward jumped out to an 8-1 lead and, this time, never looked back, burying Garden City en route to the easy victory.
Yanlis Feliz had 15 kills and Djuly Schmorantz ad 12 kills and five aces to pace the Lady Saints.
Seward takes to the road and plays at Pratt Community College at 6:30 p.m. on Wednesday.